Duration:1 hour 10 minutes
Language:English
Boost Profitability With EOSDA: The Way To Sustainable Practices
On May 24, EOS Data Analytics (EOSDA), a global provider of AI-powered satellite imagery analytics, hosted an open-door webinar on how agri-related businesses may improve their profitability while staying sustainable. Attendees from 14+ countries, including Canada, the USA, Brazil, and Great Britain, participated in the event.
EOSDA presenters and guest speakers from Agrinova Group and The Stream Ltd. elaborated on the role of satellite-driven technologies for precision agriculture and sustainable development.
You can rewatch the webinar recording and review the presentation.
Spokespersons were:
Brijesh Thoppil, Director of Strategic Partnerships at EOS Data Analytics;
Mohammed Altaqatqa, Partner Sales Manager at EOS Data Analytics.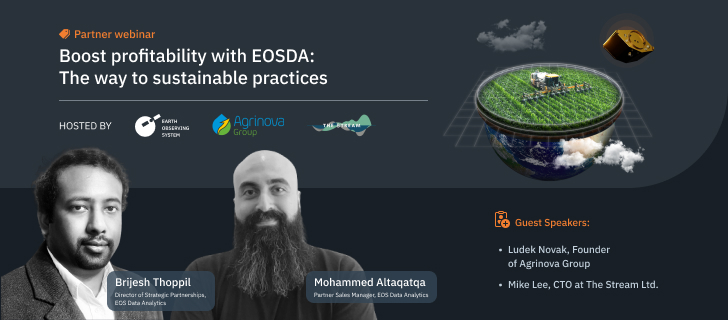 Guests speakers:
Luděk Novák, Founder of Agrinova Group that provides agricultural consulting and business services in the Central and Eastern European countries, and the EOSDA partner;
Mike Lee, Chief Technology Officer at The Stream Ltd., a technology consultancy from New Zealand that aims to improve decision-making using data and science, and the EOSDA partner.
Today, the world faces challenges our generation must address — massive methane emissions from factories, deforestation contributing to greenhouse gas accumulation in the atmosphere, and global food demand induced by climate change.
EOS Data Analytics strives to tackle critical challenges leveraging satellite technologies in the company's precision farming and carbon management solutions designed to boost agricultural productivity and reduce the detrimental impact on the environment. With this being said, our Partnership objective is to ensure that sustainability and profitability can co-exist.
Adhering to sustainability principles, EOS Data Analytics is working on the EOS SAT project.
Agri-focused EOS SAT satellites will help monitor farmlands with more control over the process, empowering us to handle current and upcoming challenges and make informed cost-effective decisions.
Satellite-based solutions may be a helpful tool not only for farmers who are directly engaged in growing crops but also other agriculture-related businesses that make an integral part of the modern agricultural system. Thus, utilizing remote sensing technologies as a sustainable practice is beneficial for different verticals, including agri-banks, consultancy, and IT.
Therefore, IT companies can ask for cost-effective turnkey solutions with additional features from the EOSDA Crop Monitoring analytics platform. Consultants will be able to check the weather forecasts, vegetation indices, and VRA (Variable Rate Application) maps for fertilizing and sowing to strengthen their services. And finally, agri-banks will get access to farms' historical data to evaluate cropping capacity and streamline loan risk assessments.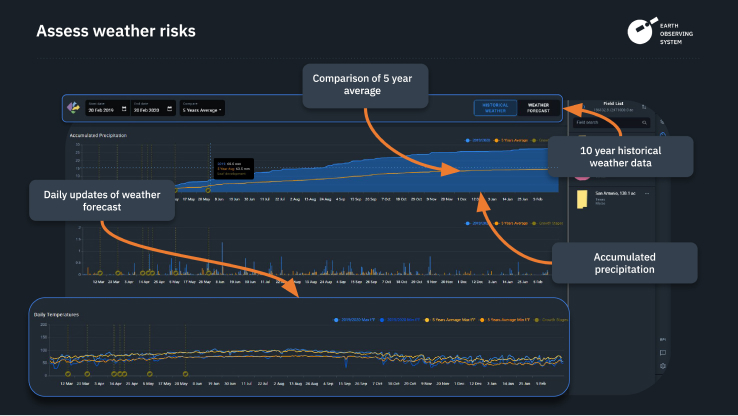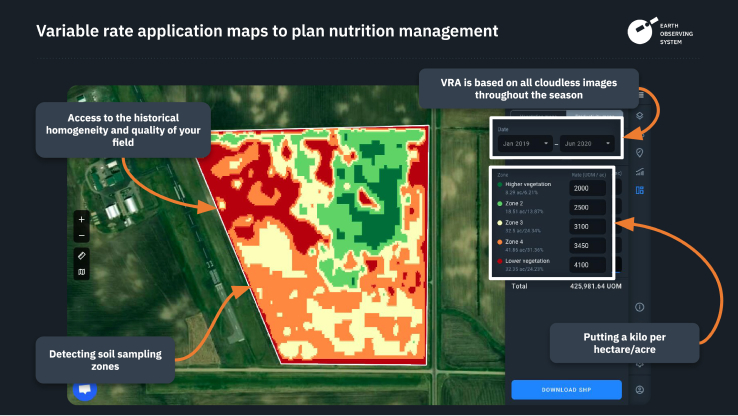 With years of expertise in agriculture and forestry, EOS Data Analytics offers its Partner Program for those companies interested in opportunities that satellite tech may bring to their businesses to be sustainable yet profitable.
We offer a way of making more with less. By partnering with us, you get access to a fully equipped digital precision agriculture platform that you can resell to your clients at your prices. We also guarantee full technical and marketing support; there is no need to spend extra money and time — we've already done it for you.
EOSDA Partner Program's primary goal is to build a global network of resellers, supporting and developing companies worldwide, strengthening their market presence, and establishing mutually beneficial relationships to last.
We help our partners and resellers since day one — we conduct training, ensure support, and even join them in demos with their clients if needed. In addition, we can also provide marketing materials and scientific documents of necessity.
EOSDA offers two partnership options — Reseller and White label model.
The reseller option is suitable for partners who want to get a feel of EOSDA Crop Monitoring without investing too much. They get the out-of-the-box platform and can sell it to their clients.
The white label model enables partners to customize EOSDA Crop Monitoring fully by applying branding and visual identity, changing the domain name, and choosing select features.
Agrinova Group and EOS Data Analytics' partnership was established in mid-2021 and helped add value to existing and upcoming Agrinova Group's services.
Interdisciplinary fact-based solutions powered by AI and neural networks will shortly reshape nearly 100 years of well-served agricultural practices. The technological and IT advancements will pave the way to get closer to sustainable food production. With IT and GIS specialists' capabilities and a good understanding of farming operations, it is possible to develop an intuitive EOSDA Crop Monitoring platform that even older folks can use. No doubts, EOSDA with EOSDA Crop Monitoring is already leading the game.
EOS Data Analytics and The Stream Ltd. partnership started in late 2021. EOSDA's satellite analytics combined with The Stream's ground sensors provide a high level of data accuracy to the company's customers.
Robust technology enabling more effective business decisions is key to success. Having an innovative business partner like EOS Data Analytics that continually enhances their products gives us the confidence to make EOSDA solutions an instrumental component of our services. Satellite monitoring technology helps us and our clients improve sustainability, productivity, and efficiency of our businesses and change the way we treat the environment.
EOSDA recognizes the importance of making the Earth a sustainable place to live for our generation and descendants. Therefore, the company aligns its roadmap with 9 of 17 the United Nations Sustainable Development Goals — all EOSDA products and services get developed and implemented following these goals.