Webinar With Greenpeace: Space Tech And Sustainability
On October 4, 2022, at 10 AM PT/7 PM CET, EOS Data Analytics, a global provider of AI-powered satellite imagery analytics, and Greenpeace will host a free webinar. The event will focus on space technologies' role in tackling issues connected with the impact of anthropogenic activities on the environment.
The presenters will discuss how using satellite imagery analytics helps reach sustainable resource management in everyday life and agricultural production and monitor changes in forest land use. The webinar will last approximately 1.5 hours.
Agribusinesses, forestry companies, GIS specialists and students, eco-activists and representatives of environmental organizations, space enthusiasts, journalists, and everyone interested in the influence of human activities on the physical environment will find the event useful.
Global challenges, such as loss of biodiversity, environment contamination, weather extremes induced by climate change, and food insecurity, require jointly agreed actions by governments, the private sector, and individuals. Sustainability is the core principle of optimizing resource consumption and production.
The webinar presenters will be:
Sergio Domingo, Campaign Researcher for Greenpeace Andino (Argentina)
Rim Elijah, VP of Sales at EOSDA
Vera Petryk, Chief Marketing Officer at EOSDA
Brijesh Thoppil, Director of Strategic Partnerships at EOSDA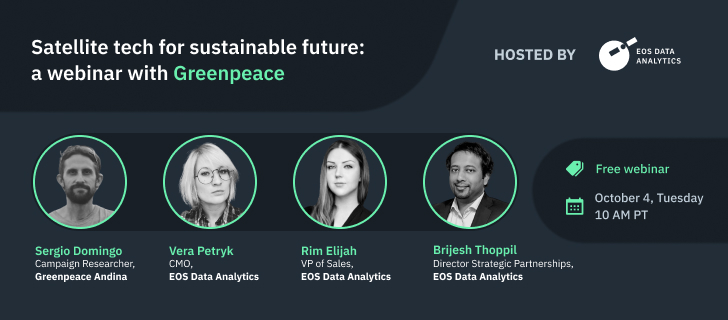 Speakers and hosts will discuss the following topics:
Environmental challenges in Argentina observed by Greenpeace: Deforestation in the Gran Chaco Americano forest, EOSDA LandViewer for monitoring changes in land use.
EOSDA Academic Outreach Program to drive the company's sustainability mission.
The importance of precision agriculture for meeting the growing demand for food and reducing environmental footprint: Use cases.
The EOS SAT satellite constellation for solving agriculture tasks.
Rainforests in South America — biodiversity hotspots — have been disappearing for decades due to deforestation. In particular, the second largest forest region on the continent, Chaco Forest, is one of the most deforested areas in the world. Our task at Greenpeace is to keep the forest under watch and notify scientists and the general public about the situation via reports, articles, and social media posts. EOSDA LandViewer has been a great help to the team. We use it to obtain satellite images of the area for analysis. I'm excited to tell more about our experience working with satellite imagery data during the webinar.
We have researched the market demand for satellite data and decided to fill the data gap by building an agri-focused satellite swarm, EOS SAT. The constellation is designed considering the specifics of farmland and forest monitoring. For instance, satellites' cameras will have 11 to 13 agri-related spectral bands. That way, end-users will be able to source imagery with clearly captured objects of interest and evaluate their condition against the criteria for each task. The deployment of EOS SAT satellites into orbit will allow our specialists to manage the full data cycle internally. That means having full control over data acquisition, processing, and analysis.
Attendees will be able to ask questions to speakers during a Q&A session. Registered users will get a confirmation email and the event reminder with the agenda, timing, and details on joining the webinar on the event day. The event will be recorded.
About the author:
Rim Elijah joined EOSDA in early 2020. She holds a double degree in business administration and political science from Stockholm University.
Rim is VP of Sales at EOSDA. She is overseeing all aspects of business model development and implementation, maintenance of positive business & customer experience, and the growth of the company's global coverage. She is responsible for closing deals, scaling up ongoing projects, as well as the development and implementation of process control within the Sales department. Rim also regularly takes part in negotiations with important clients.
So far, Rim has managed to successfully establish a number of strategic partnerships with an emphasis on the delivery of sustainable solutions in various regions of Africa and Asia.
In addition to her main responsibilities, Rim is presently involved in the upcoming launch of the first agri-based satellite constellation by EOSDA, scheduled for mid-2022. She manages relationships with the EOS SAT investors.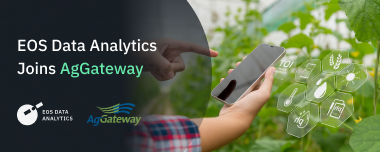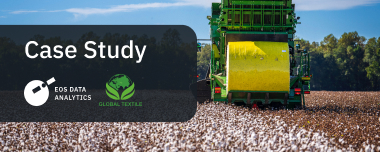 Stimulating Cotton Growth In Uzbekistan
Global Textile has been successfully utilizing EOSDA Crop Monitoring for over two years to obtain information about the vegetative development and help take care of their farmers' cotton fields.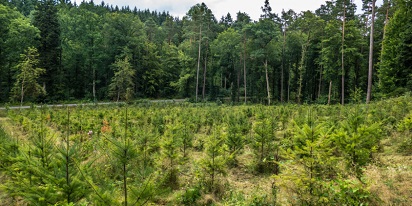 Reforestation: Pros, Cons And Effects On Planet
Reforestation has far-reaching benefits, from enhancing ecosystem services to fostering a more sustainable future. But we can only reap these rewards if we start well-planned reforestation right away.