Duration:1 hour 16 minutes
Language:English
Satellite Tech For Sustainable Future
On October 4, 2022, EOS Data Analytics, a global provider of AI-powered satellite imagery analytics, and Greenpeace Global Mapping Hub co-hosted a free webinar on using space technologies, particularly satellite monitoring and imagery analytics, for solving environmental issues facing humanity and making agriculture more sustainable.
The presenters overviewed EOSDA's activities and discussed its sustainability mission, related Academic Outreach Program, and environmental and social projects. EOSDA LandViewer and its capabilities on customer use cases, including Greenpeace, were also discussed. The presentation's final part focused on the agro-focused EOS SAT satellite constellation.
The event gathered agriculture and forestry companies, environmental organizations, space enthusiasts, GIS specialists, students, and researchers from 34 countries.
Please follow the link to view the presentation.
The following presenters spoke at the webinar:
Sergio Domingo, Campaign Researcher for Greenpeace Andino (Argentina)
Rim Elijah, VP of Sales at EOSDA
Vera Petryk, Chief Marketing Officer at EOSDA
Brijesh Thoppil, Strategic Partnerships Lead at EOSDA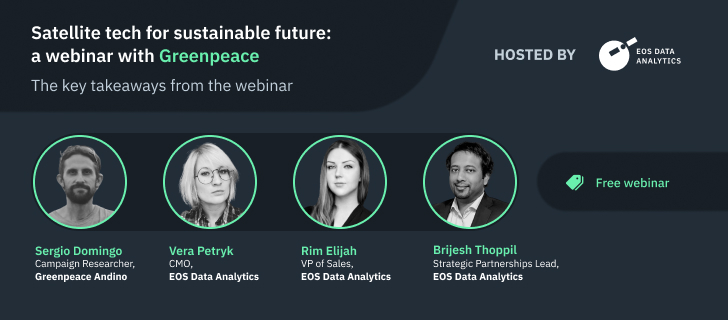 Growing interest for precision agriculture among the industry players is logical: farmers and food producers must not only remain profitable but increase the amount of produced commodities to meet the growing demand for food. At the same time, environmental conditions related to climate change make it harder to achieve these goals. Since precision farming also focuses on improving resource utilization and lessening the harmful impact of crop production on the environment, we see how the sector is transforming via the adoption of related technologies.
Using expertise in satellite remote sensing and advanced data analysis, EOS Data Analytics provides businesses with solutions and services for making timely data-driven decisions to work more efficiently while minimizing negative environmental impacts.
The mission mentioned above correlates with the company's vision to make space tech a driving force of sustainability on Earth.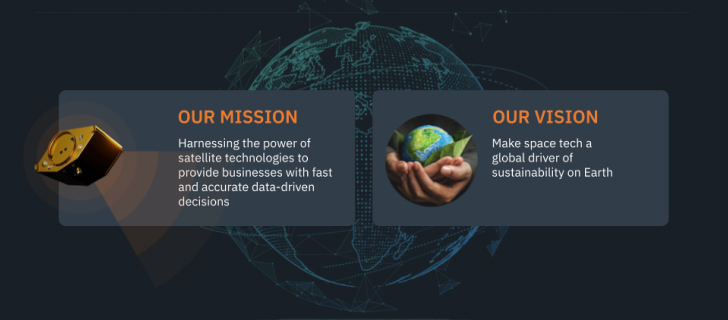 EOSDA's off-the-shelf solutions and custom projects currently focus on tackling nine out of 17 sustainable Development Goals by the United Nations, such as climate action, responsible production and consumption, and ending hunger. The company relies on these goals for building and modernizing these products. Social projects EOSDA participates in also go in line with them.
One of such cases was a participatory mapping project for indigenous communities in Chad that have been fighting for scarce natural resources — water and land. Our GIS specialists provided people with a digital map based on a satellite image of the disputed area. The social aspect behind the map creation is that it facilitated collaboration and discussion about sharing these resources fairly. Leaders of 116 indigenous communities from 23 villages took part in the project.
Vera Petryk also introduced the EOSDA Academic Outreach Program, whose goal is to strengthen scientific and academic research for the good of our planet. The company grants access to EOSDA LandViewer and EOSDA Crop Monitoring tools to individual users (students, researchers, scientists) or research groups from universities or NGOs. More information about the program and its terms is on its page.
Sergio Domingo, the Campaign Researcher for Greenpeace Andino, talked about how he and the team use EOSDA LandViewer for monitoring deforestation in Argentina provinces: Santiago del Estero, Chaco, Formosa, and Salta. The Gran Chaco Americano, South America's second-largest forest region after the Amazon, overlies the provinces.
A National Forest Law prohibits lumbering in these areas adopted at the end of 2007. Despite legal protection, these lands account for nearly 80% of total deforestation in the country. Our task is to monitor monthly changes in land use, go to places to expose violations, document them in reports and maps, and share the information to the public via press and social media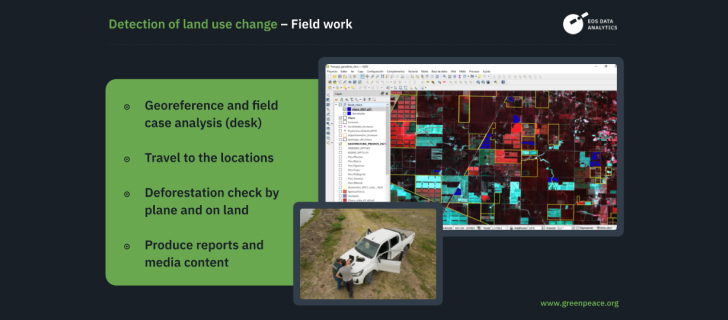 To check every zone and spot possible daily changes (e.g., deforestation caused by cattle ranching and crop growing or forest damage due to fire), specialists compare images captured with different spectral band combinations.
Thanks to EOSDA LandViewer, we can respond very rapidly to spotted violations.
The team has been using the tool for approximately three years.
EOSDA LandViewer is an online GIS platform aggregating satellite images from more than 20 satellite providers and allowing for quick searching, processing, and analyzing data to solve real business issues.
With this software, customers can take a very close look at areas of interest as the imagery resolution ranges from 0.4 to 2.5 m per pixel. Numerous spectral bands, the opportunity to perform a time series analysis, and present findings in a time-lapse are some of the numerous features at users' fingertips.
The final part of the presentation was about EOS SAT — the world's first agri-focused satellite constellation among companies utilizing remote sensing technologies. It will consist of seven machines, the first of which will start orbiting in 2022.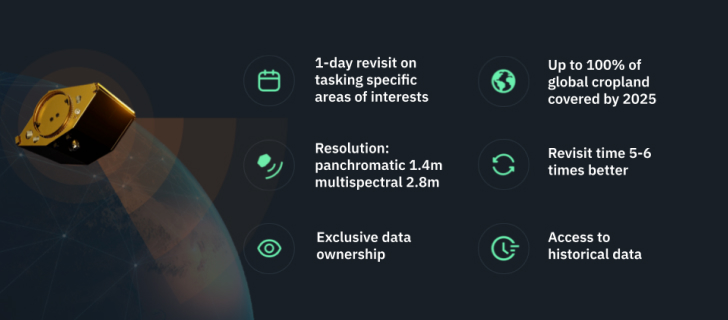 The satellites' software and hardware serve the swarm's primary purpose — monitoring cultivated lands and forests and generating data to support decision-making for agribusinesses and clients servicing them.
The key advantage of deploying and managing a satellite swarm is the opportunity to generate data tailored for specific analytics needs of the industry users. For instance, we define temporal and spatial resolution, choose spectral bands, and image processing techniques that ensure customers get high-quality data that will positively influence the accuracy of analytical results.
EOS SAT technology will permit farmers to lower carbon dioxide emissions and adopt sustainable agriculture practices without financial losses: optimize energy, water, and fuel consumption, and avoid fertilizer and pesticide overuse that degrades soil while increasing crop productivity.