Increasing Profit Staying Sustainable: Free Webinar
On May 24, at 3 PM GMT, EOS Data Analytics will host an open-door webinar to discuss how different agriculture-engaged industries may boost profitability yet stay sustainable.
The webinar will be useful for IT, agro-consultancy, and bank representatives. EOSDA, Agrinova Group, The Stream Ltd. speakers will talk about the value of satellite-driven technologies for precision farming, enabling agriculturalists to adapt to unfavorable environmental conditions.
In the context of climate change, growing food demand, and air and water pollution, businesses are seeking ways to make their production more environmentally friendly while staying profitable. EOS Data Analytics is committed to bringing the power of space closer to humanity, leveraging satellite technologies to generate actionable data-driven insights.
Adhering to sustainability principles, EOSDA concentrates the company's efforts on precision agriculture and carbon management solutions designed to streamline decision-making, improve farm productivity, and diminish the environmentally hostile impact by reducing chemical usage and CO2 emissions.
Businesses ought to be sustainable if they want to stay profitable. This is the new agenda that our modern society has to adapt to. Being deeply consent with this idea, EOSDA is devoted to developing cutting-edge technologies that can help make the Earth a better place to live. We encourage all socially responsible businesses to follow the planet's sustainability agenda. Thus, along with our partners, we're happy to announce our first webinar dedicated to finding sustainable solutions for various industries. You're more than welcome to join, and see you there!
Among the speakers will be:
Rim Elijah, VP of Sales at EOS Data Analytics;
Brijesh Thoppil, Director of Strategic Partnerships at EOS Data Analytics;
Mohammed Altaqatqa, Partner Sales Manager at EOS Data Analytics.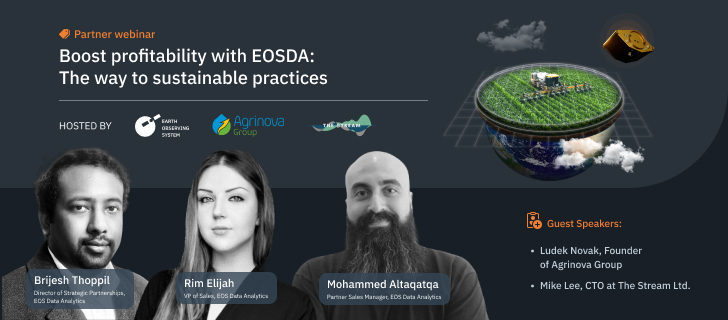 Guest speakers:
Ludek Novak, Founder of Agrinova Group that provides agricultural consulting and business services in the Central and Eastern European countries, and the EOSDA partner;
Mike Lee, Chief Technology Officer at The Stream Ltd., a technology consultancy from New Zealand that aims to improve decision-making using data and science.
The topics to be covered in the webinar:
Agro-consultancy, banks, and the IT sector — what market challenges do they have?
How do EOSDA solutions help consultants, agri-banks, and IT firms?
Agrinova Group: Premium agronomic data to expand into new markets by EOS Data Analytics;
EOSDA Partnership Network: business conditions and partnership benefits;
The Stream Ltd.: Adding value to agro and environment services with the power of partnership
How can businesses find the right balance between profitability and sustainability?
The agro-focused constellation EOS SAT and its contribution to sustainable development.
The participants are encouraged to ask questions during a Q&A session after the main part. The details on webinar access will be available upon registration. The recording of the webinar will be provided to all registered users.
Nowadays, in an attempt to combat the global food deficit, companies join their efforts in searching for effective solutions. By establishing global and regional partnerships and merging satellite technologies with other agri-related industries' expertise, agricultural market players will get unique tools for making their businesses sustainable and profitable.
About The Stream Limited
The Stream Ltd. established in 2020, provides technical consultancy services in New Zealand.
The company is a team of professionals and leaders united to create a service that delivers to the needs of the market and the community and is driven by the company's values and the Mission to see data used to its fullest to change the world.
About Agrinova Group
Agrinova Consulting, s.r.o., the first company of Agrinova Group, was established in 2014 by the Group founder Luděk Novák. Agrinova Consulting provides consulting and business services in agriculture in Central and Eastern European countries.
Recently, Agrinova Trading, s.r.o., the youngest company in the Group, has been established. Agrinova Group's network companies operate in the Slovak Republic, Poland, and Ukraine.
About the author:
Natalia Borotkanych has been working in the space sector for more than 15 years now. Her experience includes working in business, science, education, and government projects.
Natalia has a PhD in space history, Master's Degree in Foreign Policy from the Diplomatic Academy of Ukraine, as well as Master's Degree in Public Management and Administration from National Academy for Public Administration under the President of Ukraine.
Building upon her experience of working in the State Space Agency of Ukraine, Natalia now specializes in helping the state bodies and NGOs to implement the satellite monitoring technologies for solving real-world problems and for smart decision-making.
Natalia is an active science communicator. She is a scientific editor at The Universe. Space. Tech magazine. She also teaches a "Space diplomacy" course at the National Aviation University.
Natalia's experience in project coordination and scientific expertise in the space sector are much appreciated at EOS Data Analytics.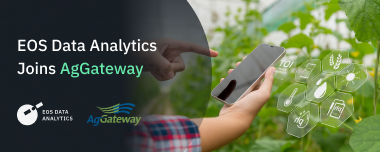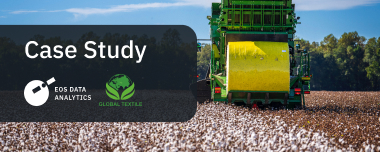 Stimulating Cotton Growth In Uzbekistan
Global Textile has been successfully utilizing EOSDA Crop Monitoring for over two years to obtain information about the vegetative development and help take care of their farmers' cotton fields.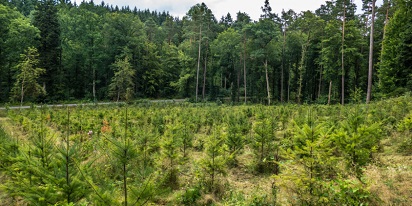 Reforestation: Pros, Cons And Effects On Planet
Reforestation has far-reaching benefits, from enhancing ecosystem services to fostering a more sustainable future. But we can only reap these rewards if we start well-planned reforestation right away.