High-Resolution Images Are Close As Never Before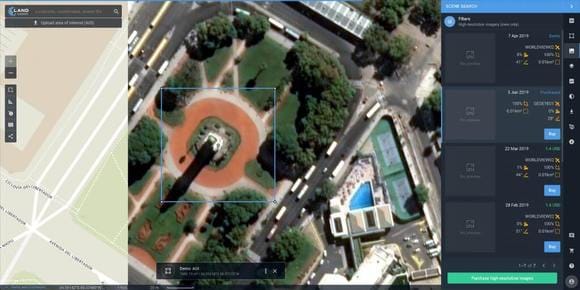 High-resolution imagery from a trusted provider has always been of a great demand due to the highest detail and accuracy it offers as well as an unlimited scope of the fields it could be applied. One could hardly find a better source of data when it comes to an in-depth analysis of the area, as it provides an unrivaled frequency and enhanced characteristics.
It's difficult to overestimate the value of high-resolution images in Intelligence, Construction, Emergency and Farm management among other applied fields. But what if there is no need for deep analysis and the key aim is to get an update on the area of interest? To follow up the construction development process, to check the harvesting stage or detect a post-disaster change after a flood or an earthquake?
Until now to get high-quality data, fitting all of the above, you had to purchase high-resolution imagery, wait 1-3 business days for it to be delivered to your account and be in charge of its further processing. The satellite imagery obtaining process is still an extremely cost-intensive technology, therefore the price has always been quite impressive.
High-Quality Data Sources Available In EOSDA LandViewer
To make using high-resolution data affordable for many business cases, EOSDA LandViewer has designed a feature, which allows for viewing imagery in Browser, skipping the download and viewing it on the map just for 0.7 for one tile. Sounds great, right? Stay tuned, we will tell you more.
To deliver the latest and the most accurate data of your area of interest whenever you need, EOSDA has been cooperating with top world's high-resolution satellite imagery providers: Airbus Defense and Space, SI Imaging Services, SpaceWill, 21A. This cooperation results in an ultimate data source for high-quality data from more than 18 satellites within 6 constellations with an average revisit time of 1-2 days max to any place of the globe.
Being preoccupied to make the process fast and user-friendly, EOSDA LandViewer incorporates the collected data within one single platform, delivering the high-resolution images just at your fingertips.
To cover most of the users' needs, the "view only" feature was designed as a separate data source making the imagery available and affordable for all kinds of applied fields. The standard option to purchase the imagery is also available, so let's be precise and define the exact benefits for you in each case:
High-resolution imagery (for analytics) – a data source, which contains high-resolution imagery for an in-depth analysis, available for purchasing and downloading for further processing and analyzing. In this case, the price is based on the size of the intersection between the selected image and your area of interest (AOI). Once the image is paid, it will be delivered to your EOSDA Storage account within 1-3 days.

Bundle or pan-sharpened imagery is provided in GeoTIFF format with the resolution between 0,3m to 1.5m from the following satellites: SIIS (KOMPSAT 2/3/3-A), AirBus (Pleiades 1a/1b, SPOT 5/ 6/7), SpaceWill (SuperView 1a/1b/1c/1d, Gaofen 1/2, -Ziyuan 3), 21AT (TripleSat 1/2/3).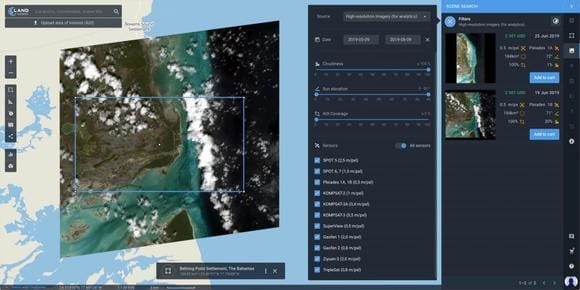 High-resolution imagery (view only) – a separate data source, which contains the imagery, applicable in case you only need to monitor the area of interest (AOI) without downloading the image for an in-depth analysis. The price for viewing is based on the number of tiles within your AOI. One tile costs just 0.7$ and the image will be available on the map right after the purchase. Images are delivered in Jpeg ("rgb composite") format with a resolution between 30-40 cm from DigitalGlobe (WorldView 2, 3, 4, GeoEye 1) satellites.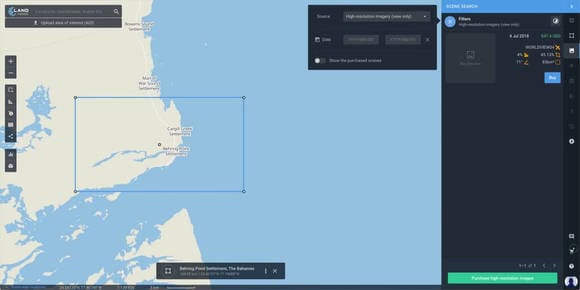 Why Use The High-Resolution (View Only)?
The key advantage of the source is that It provides the latest data on your AOI without purchasing quite expensive high-resolution imagery. To be more precise, you are able to monitor your area of interest whenever you need and pay just for viewing. In this case, you get commercial imagery with a resolution of 30-40 cm (1 pixel represents 30-40cm of the surface), the same frequency as high-resolution imagery (for analytics), affordable price and time-saving algorithm of obtaining it.
How To Launch The Feature?
You will be surprised at how fast and easy the process is. First, you need to set your AOI: you can find the location, using the search box, upload or draw it on the map with the set of drawing tools.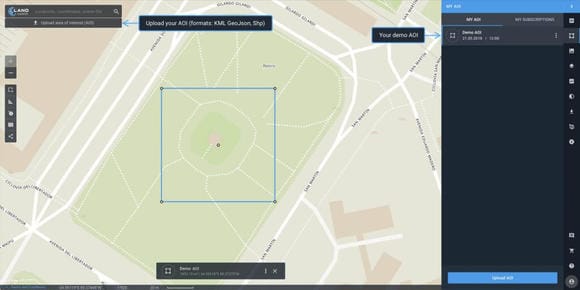 Based on the selected AOI, EOSDA LandViewer will define a number of tiles you will pay for. We have added one demo AOI with the list of high-res images related to it so that you can test the feature before managing your own area of interest.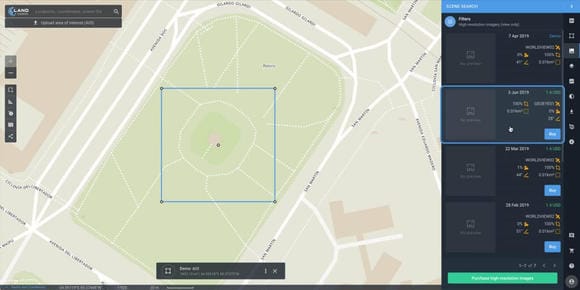 Hover over the preview card and check metadata of the image to reconfirm the selected scene suits your use-case best.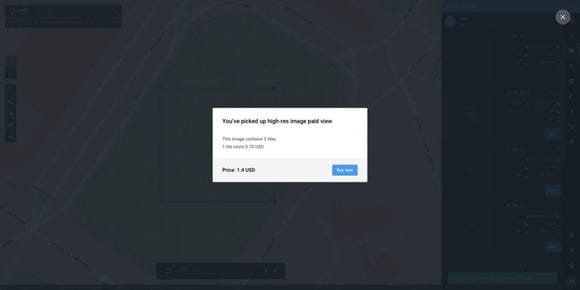 Confirm viewing and check detailed info on the number of tiles, the price per one and the total charge in the payment pop-up. The payment process is simple, so your account will be charged once for the total amount. Once the payment has been processed, the selected image will be displayed on the map. Easy, right?
Get Even More With EOSDA LandViewer
On top of all the features of commercial high-res imagery now available in EOSDA LandViewer, we are ready to offer some add-ons:
No need to pay twice as all the paid images previously selected for viewing are saved in "Free available (view only")" tab.
No limits for size and resolution of AOI's. They are saved and available in "My AOI" tab by default.
EOSDA Crop Monitoring
Performing fields analytics based on relevant satellite data to ensure effective decision-making!
Most Frequent Applications In Practice
Use Case 1 – New Havalimanı Airport In Istanbul
Objective: Track construction progress
Description: Due to the inability of increasing passenger traffic in existing Istanbul airports, it was decided to build a new one. The groundbreaking ceremony was held on 7 June 2014, but the construction started in May 2015. The airport was open in October 2019 and all scheduled flights were transferred here in April 2019. Havalimanı airport is located in the Arnavutköy district of Istanbul.
Result: The service offers a capability to visualize and to detect changes in the construction process as well as to define the dynamics of such changes. Furthermore, it's a cost-effective and time-saving solution as you don't need to involve experts for monitoring of the construction sites.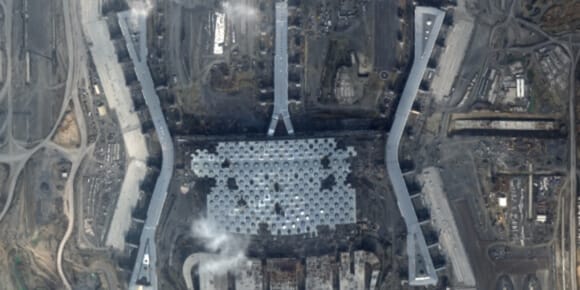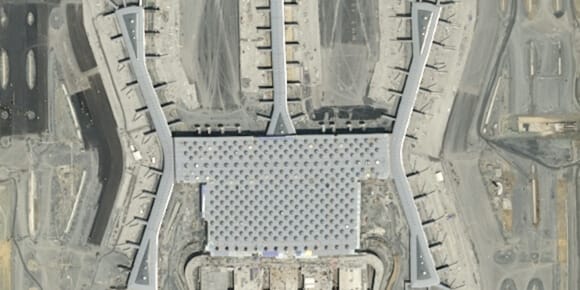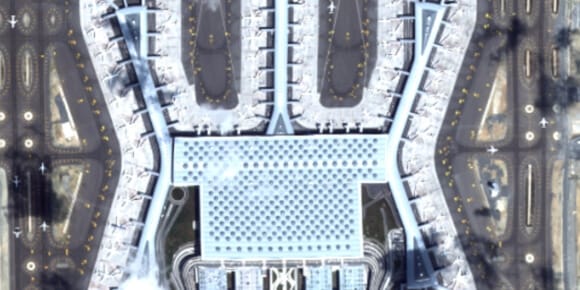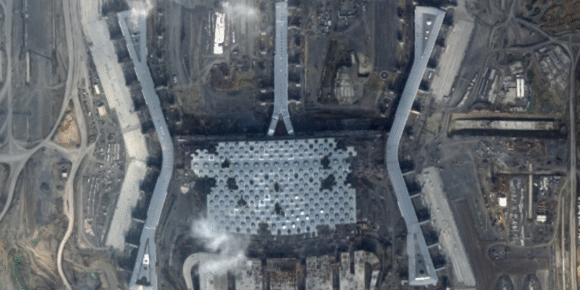 Use Case 2 – Notre Dame De Paris On Fire
Objective: Pre-assess damage
Description: On April 15, 2019, the breaking news appeared on every channel of the world – the most well-known cathedral in Paris was caught on fire. The fire in Notre Dame started late in the evening and the fire brigade managed to extinguish it only the next day due to a complicated construction of the cathedral. The cause of the fire outbreak is still unknown.
Result: The service allows you to assess the damage caused by man-made and natural disasters fast and timely, comparing the pre- and post-disaster images.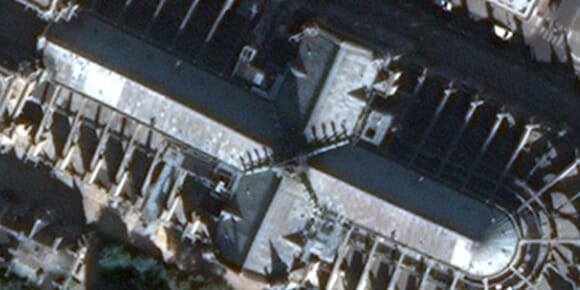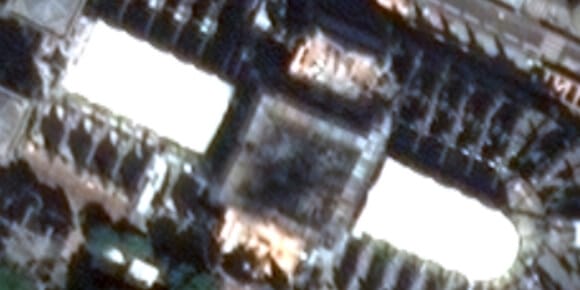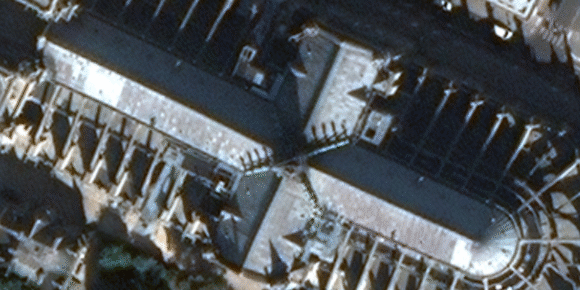 So, whatever kind of business you are dealing with, whenever you need the information to be obtained, we are always ready to provide you with the most suitable option. Purchase high-resolution imagery from top providers or view the AOI in Browser for a song – EOSDA LandViewer will always deliver the best possible.
Check EOSDA LandViewer's step-by-step user-guide to find the detailed instructions on how to work with high-resolution (view only) or feel free to email us at support@eos.com
About the author:
Petro Kogut has a PhD in Physics and Mathematics (1998). He successfully defended two dissertations: "Stability and Optimal Stabilization of Neutral Integro-Differential Equations" (1989) and "Stability and Optimal Stabilization of Neutral Integro-Differential Equations, Homogenization of Optimal Control Problems for Systems with Distributed Parameters" (1998).
He is the author of multiple scientific publications, including "Variational Model with Nonstandard Growth Conditions for Restoration of Satellite Optical Images via Their Co-Registration with Synthetic Aperture Radar".
Dr. Kogut has received two grants: International Fund of Fundamental Investigations - "Vidrodzhennia" (1996) and Ukrainian Fund of Fundamental Investigations (1997).
In 1996, he became the Soros Associated Professor. A year later, he received The First Prize of National Academy of Science of Ukraine for his research in homogenization theory of optimal control problems.
Dr. Kogut has received an honorary decoration, "Excellence in Education of Ukraine" (2014) and the medal of A. M. Makarov, "For significant merits" (2019).
Since 2014, Petro has been the head of the department of differential equations in the Oles Honchar Dnipro National University.
Some of Dr. Kogut's hobbies include fishing and woodworking.
Dr. Kogut provides scientific advice to EOS Data Analytics.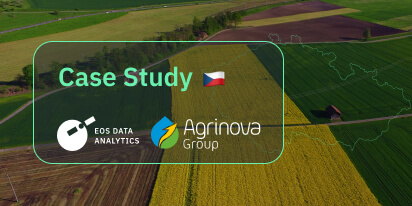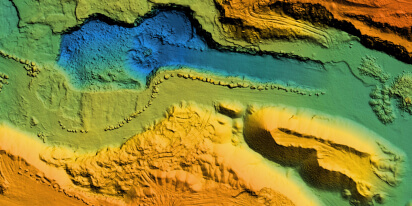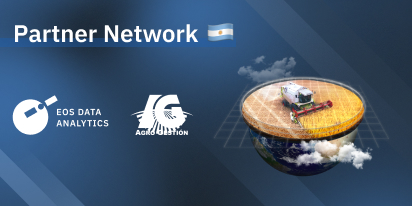 EOS Data Analytics Partners With Agro Gestión
With a focus on innovation and sustainability, EOS Data Analytics and Agro Gestión's partnership will bring cutting-edge satellite technology to more agribusinesses in Argentina, Paraguay, and Spain.