On August 11, at 10 AM PT, EOS Data Analytics, a global provider of AI-powered satellite imagery analytics, will host a free webinar on the modern farming approach, precision agriculture, and the use of satellite monitoring solutions for achieving sustainable crop production.
In particular, viewers will learn about custom solutions such as crop classification, field boundary detection, yield prediction, and soil moisture tasks and their implementation: from data requirements to used analytics techniques and results. The online event will be in English and will last up to 1.5 hours.
The webinar will be useful for agri-coops, food producers, agricultural lenders, IT businesses, telecom, and consulting companies from Canada and the U.S.
Food production industries in the U.S. and Canada benefit from tech advancements, transparent business conditions, government support, and affordable loans. Yet precision agriculture tech for farm management isn't commonly used. Only up to 39% of the small and medium food producers operating on 600–1300 acres use it. By implementing satellite analytics, businesses could meet their needs for relevant data for machinery control, rational use of inputs, field productivity analysis, yield forecasting, etc.
The presenter Brijesh Thoppil, Director of Strategic Partnerships at EOS Data Analytics, will cover these topics:
North American agricultural market overview: Latest challenges and opportunities.
How satellite tech is taking farming into the 21st century.
EOSDA solutions for agri coops, food production, telecom, and consultancy businesses.
Crop classification, field boundary detection, yield prediction, and soil moisture.
EOS SAT — the satellite constellation equipped to generate earth observation data for solving agriculture tasks.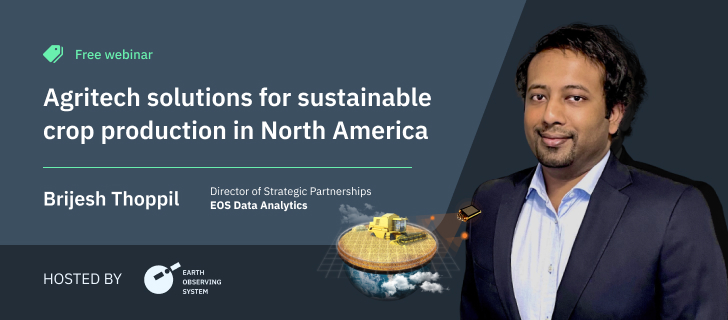 Through educational events like this, we would like to demonstrate to agriculturalists and businesses working with the industry representatives how using satellite analytics can help make grounded decisions every day. Custom projects are examples of how the analysis of ground-truth, meteorological data, and multi-source satellite imagery of fields allows answering questions about land use and cover, and estimate yields or detect the amount of water in soil.

Brijesh Thoppil

Director of Strategic Partnerships at EOS Data Analytics
EOSDA specialists use machine learning and deep learning models (neural networks) to analyze input data for custom solutions. Projects can be carried out for any location across the globe.
Besides discussing custom solutions and their benefits, the host will also present the first (EOS SAT-1) of seven satellites within the EOS SAT agri-focused constellation. The company plans to launch it into low Earth orbit in 2022 and complete the deployment of the other six satellites by 2025. Once in full operation, the constellation will cover up to 90% of global agricultural lands worldwide.
The webinar will include a Q&A session after the presentation. Registered users will get the details on how to join the event after the registration. Also, the event will be recorded for everyone's convenience.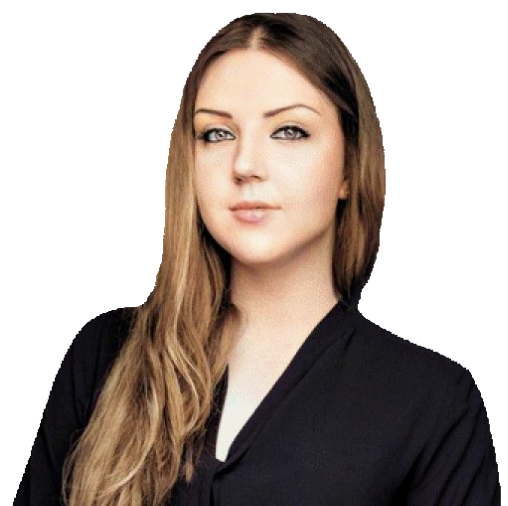 Rim Elijah joined EOSDA in early 2020. She holds a double degree in business administration and political science from Stockholm University.
Rim is VP of Sales at EOSDA. She is overseeing all aspects of business model development and implementation, maintenance of positive business & customer experience, and the growth of the company's global coverage. She is responsible for closing deals, scaling up ongoing projects, as well as the development and implementation of process control within the Sales department. Rim also regularly takes part in negotiations with important clients.
So far, Rim has managed to successfully establish a number of strategic partnerships with an emphasis on the delivery of sustainable solutions in various regions of Africa and Asia.
In addition to her main responsibilities, Rim is presently involved in the upcoming launch of the first agri-based satellite constellation by EOSDA, scheduled for mid-2022. She manages relationships with the EOS AgriSat investors.