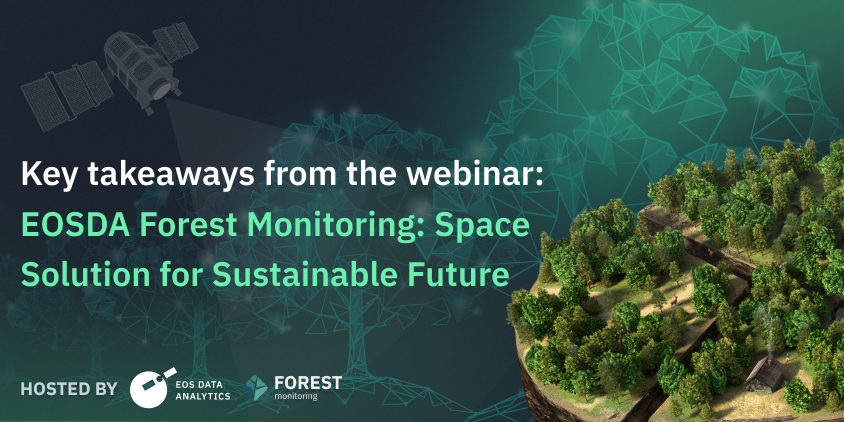 Duration:1 hour 7 minutes
Language:English
Relaunch Of EOSDA Forest Monitoring With New Solutions
On August 29, 2023, EOS Data Analytics, a global provider of AI-powered satellite imagery analytics, hosted a free webinar dedicated to the relaunch of the EOSDA Forest Monitoring platform, a customizable satellite-based software for forestry management.
The webinar was focused on the key challenges in the forestry industry, particularly those linked to sustainability, and how remote sensing can help address them and promote environmentally conscious practices.
To access the presentation, follow the link.
The current and potential EOSDA clients, representatives of insurance providers, investment and educational communities, logging companies, banking and loan institutions and many other professionals were present at this online event.
The following speakers had been presenting during the webinar:
Kostiantyn Chernyshevskyi, Product Manager of EOSDA Forest Monitoring
Yevhenii Marchenko, Senior Account Executive at EOSDA
Vera Petryk, Chief Marketing Officer at EOSDA
Dmitriy Hramov, Data Scientist at EOSDA
The webinar commenced with an introduction by Yevhenii Marchenko to EOS Data Analytics. He delineated the company's core competencies, including satellite image analysis for actionable business insights, a robust team of 220+ professionals, and a focus on key sectors such as agriculture and forestry. Emphasis was placed on the company's unique capability of overseeing the entire production cycle, from satellite assembly to data processing.
EOS Data Analytics offers three distinct platforms, with this particular webinar dedicated to the relaunch of one of them, EOSDA Forest Monitoring. The recently expanded platform is now aimed at businesses and organizations rather than individuals.
Yevhenii Marchenko also emphasized the platform's extensive customization capabilities, allowing for modifications and additions to existing features in alignment with client needs. Such adaptability is aimed at maximizing cost efficiency and fostering sustainable forest management, in line with the company's mission and vision.
The discussion then delved into an in-depth exploration of how remote sensing functions in forest monitoring, highlighting the array of custom solutions available in EOSDA Forest Monitoring.
Yevhenii Marchenko elaborated on Reforestation and Tree Species. Kostiantyn Chernyshevsky took the stage to discuss Deforestation, Forest Cover, and Burned Areas solutions, as well as the indices functionality. Dmitriy Hramov shed light on the workings of the Forest Health solution and provided a sneak peek into the Forest Biomass solution.
Special attention was paid by Yevhenii Marchenko to the importance of weather considerations in satellite image analysis. EOSDA Forest Monitoring integrates high-resolution historical weather data, enhancing the understanding of forest stands and the causality of specific forest-related events.
In this context, Dmitriy Hramov introduced the Fire Weather Index within EOSDA Forest Monitoring, a critical tool that furnishes daily fire risk data and seven-day forecasts.
In the final part, Yevhenii Marchenko and Vera Petryk underscored EOSDA's commitment to sustainability. They detailed how various solutions within EOSDA Forest Monitoring help businesses, governments, and key decision-makers capable of effectuating significant changes contribute to a positive impact worldwide. A compelling "story of impact" from Chad, previously featured on the EOSDA blog, was presented to illustrate their point.
It's imperative to understand that the solutions offered by EOSDA Forest Monitoring are instruments of change meticulously designed to align with the United Nations' Sustainable Development Goals. By leveraging our technology, businesses and governments are not merely optimizing their operations but are also making strides toward a more sustainable and equitable world.
Concluding the webinar, Yevhenii Marchenko divulged details about EOS SAT-1, the company's inaugural satellite in its future constellation. As the first agro-focused constellation among remote sensing companies, launched in January 2023, it promises to augment EOSDA Forest Monitoring with even more precise analytics on forest conditions.