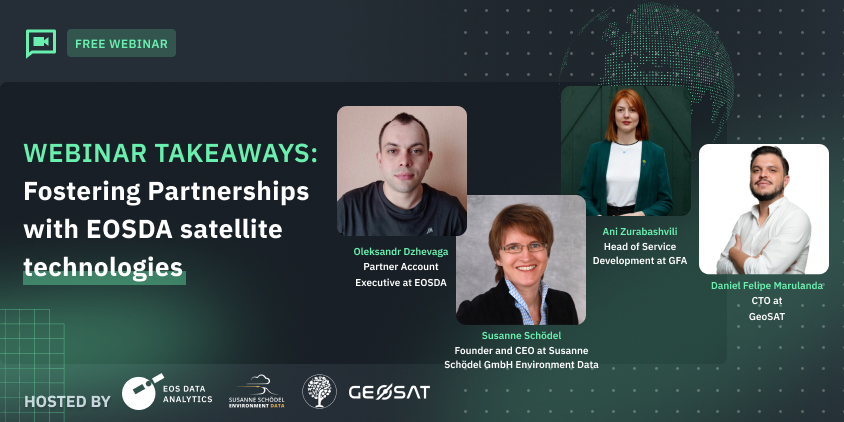 Duration:1 hour 21 minutes
Language:English
Fostering Partnerships With EOSDA
On September 14, 2023, EOS Data Analytics, a global provider of AI-powered satellite imagery analytics, along with its partners — Georgian Farmers' Association, Susanne Schödel GmbH Environment Data, and GeoSAT, — held a free webinar showcasing how satellite technologies can drive innovation in agriculture through partnerships.
The webinar was focused on how collaboration between EOSDA and various stakeholders can enhance the effectiveness of satellite solutions for a wide range of applications in such areas as environment, climate, and disaster management, agriculture, forestry, and more.
To access the presentation, follow the link.
Current EOSDA clients and partners, logging companies, insurance providers, investment and educational communities, loan and banking institutions, and government entity representatives were present at this online event.
The following speakers had been presenting during the webinar:
Oleksandr Dzhevaga, Partner Account Executive at EOSDA
Ani Zurabashvili, Head of Service Development at GFA
Susanne Schödel, Founder and CEO at Susanne Schödel GmbH Environment Data
Daniel Felipe Marulanda, CTO at GeoSat
The webinar kicked off with an overview of EOS Data Analytics, highlighting its recent achievements and future endeavors. Oleksandr Dzhevaga emphasized the upcoming launch of EOS SAT, the world's first solely agri-focused satellite constellation among companies utilizing remote sensing technologies. Notably, its inaugural satellite commenced operations in low Earth orbit in January 2023.
Following this, the Partner Account Executive showcased EOSDA's current offerings, spotlighting its alignment with 10 of the 17 UN SDG goals and its dedication to sustainability through tailored solutions for agriculture.
The presentation transitioned to the introduction of the EOSDA Partner Program, encouraging agriculture-related businesses to enhance their revenue streams by reselling the EOSDA Crop Monitoring platform. This initiative aims to build a global network of resellers to uplift the worldwide agriculture sector.
Our goal at EOSDA is to bring more precision to agriculture. Our solutions are here to help our partners give their customers actionable, satellite-backed insights that both improve crop productivity and foster sustainability, now and in the future.
The stage was then handed over to EOSDA partners.
Ani Zurabashvili opened by discussing the Georgian Farmers' Association's (GFA) role in supporting its 5,000 members through various services including policy consultations and technical support. The collaboration with EOSDA enhances GFA's innovation strategy, leveraging EOSDA Crop Monitoring's satellite analytics to foster economic sustainability and improve crop yields.
Next, Susanne Schödel shared her journey since founding her company in 2021, focusing on enhancing transparency in climate change effects and soil-air interactions, with agriculture being central to her initiatives. She highlighted a successful collaboration with EOSDA in 2022, securing a government tender for satellite data.
Continuing her talk, Susanne Schödel mentioned the positive reception EOSDA Crop Monitoring has received from various stakeholders in Germany, aiding farmers in digitalization and enhancing field activity efficiency. The platform also serves large-farm equipment companies and government institutions, among others. Schödel envisions expanding partnerships and advancing digitalization in German and EU agriculture sectors.
Next, Daniel Felipe Marulanda introduced Geobristol, a white-label solution of EOSDA Crop Monitoring tailored for Latin America by GeoSAT. Leveraging 30 years of market experience, GeoSAT provides farmers and governments with real-time satellite data.
Daniel Felipe Marulanda shared a success story of equipping 2,800 farmers in Medellín with Geobristol, facilitating improved resource management and fostering sustainable farming. GeoSAT aims to broaden its reach across Latin America, establishing Geobristol as a leader in sustainable agriculture solutions in the region.
Oleksandr Dzhevaga returned to spotlight the growth of EOSDA's global partner network, noting the regular case study features on the company blog. He outlined the partner program, highlighting its benefits and bundle offers.
The webinar wrapped up with a Q&A session.