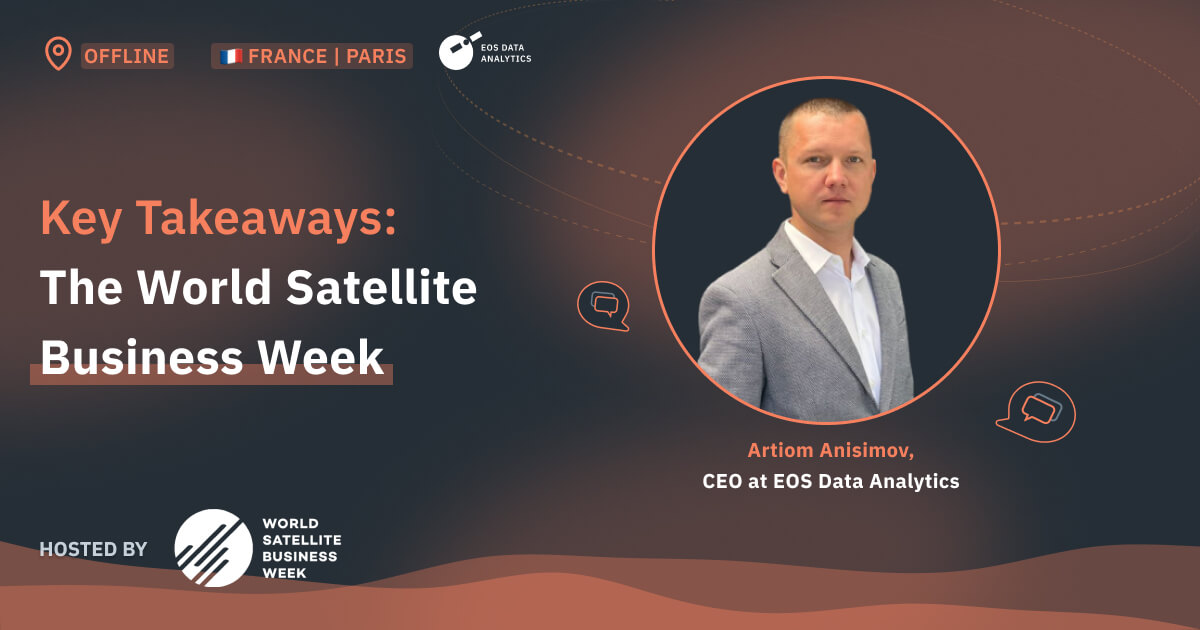 Duration:5 days
Language:English
EOSDA's CEO Attended WSBW In September 2023
We are happy to inform you that EOSDA's CEO, Artiom Anisimov, attended the highly anticipated WSBW event in September 2023. As a key figure in the fields of data analytics and Earth observation services, Anisimov's presence lent greater significance to this space event.
The World Satellite Business Week event, which took place in Paris, was an esteemed gathering of industry leaders, innovators, and professionals from the satellite and space sectors. With its reputation for facilitating high-level networking opportunities and stimulating discussions, WSBW served as an ideal platform for companies like EOSDA to showcase their expertise and forge valuable partnerships.
During his visit, Artiom Anisimov was particularly excited to engage in meetings with two partners: AWS and Terran Orbital. Collaborating with AWS, a global leader in cloud computing services, presents immense possibilities for enhancing EOSDA's data analytics capabilities and leveraging cloud-based solutions to maximize efficiency.
By attending WSBW and engaging in strategic discussions with AWS and Terran Orbital, Artiom Anisimov showcased EOSDA's commitment to staying at the forefront of the industry. This participation affirmed our dedication to harnessing the limitless potential of satellite data analytics, accelerating innovation, and driving positive change worldwide.