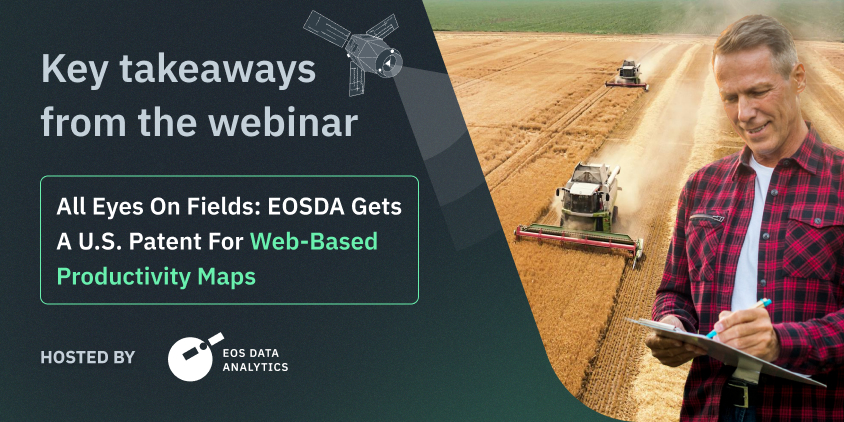 Duration:1 hour 6 minutes
Language:English
Productivity Maps For Agribusinesses
On July 31, 2023, EOS Data Analytics, a global provider of AI-powered satellite imagery analytics, hosted a free webinar dedicated to the capabilities of crop productivity maps, EOSDA's patented technology, in the field of the cross-platform sustainable agriculture market.
The webinar was focused on the peculiarities of the everyday usage of EOSDA's crop productivity maps, various use cases and combinations of such maps, and ways the algorithms behind this patented technology can be further enhanced.
To access the presentation, follow the link.
Various agricultural machinery companies, agritech developers, insurance providers, input suppliers, food producers, investment and educational communities and organizations, as well as banking institutions and government entities attended this online event.
The following speakers had been presenting during the webinar:
Lidiia Lelechenko, Sales Executive at EOSDA
Regina Urazmanova, EOSDA Crop Monitoring Product Manager
Oleksandr Kryvoshein, Senior Researcher at EOSDA
The webinar opened with Lidiia Lelechenko introducing EOS Data Analytics, detailing its evolution, notable accomplishments, and plans for the future. As part of the company's innovative strategy, EOSDA is set to launch EOS SAT, its own proprietary constellation of seven satellites, allowing the company to reach total autonomy over data collection and processing.
The conversation then shifted towards the unique algorithm powering the company's patented technology of web-based crop productivity maps for EOSDA Crop Monitoring. Its main task is to identify field productivity zones. The most common goals of this technology is to create variable rate application maps and determine historical productivity of the fields.
Variable rate application maps play an essential role in streamlining differential fertilizer application, seeding and soil sampling. Their importance becomes even more pronounced in viticulture, where farmers require precise zoning for their vineyards. In addition to bolstering compliance and traceability, these maps grant farmers the adaptability they need in maintaining their vineyards.
Meanwhile, map data pertaining to historical productivity can help inform decisions regarding the acquisition of new plots and the subsequent cultivation strategies.
The productivity maps are easily accessible through EOSDA Crop Monitoring and can be adjusted according to the required time period required and desired number of zones. The granularity of the map increases with the selection of more zones.
Regina Urazmanova, EOSDA Crop Monitoring Product Manager, demonstrated then the practical application of crop productivity maps in optimizing fertilizer use, seeding, and soil sampling processes. Moreover, she explained the utility of the Long-Term Productivity Index – a gauge of historical productivity that identifies areas of varying fertility within a field. Utilizing this index before sowing can help further rationalize a crop growth management strategy.
Yet the underlying algorithm of crop productivity maps extends beyond these applications. For instance, CALPI, the Combined Arable Land Productivity Index, can be calculated with this algorithm to illuminate crop potential. The speakers presented a compelling case study where CALPI was instrumental in estimating potential yields of soybean and maize on a certain plot, facilitated by the WOFOST simulation of productivity parameters.
Since soil organic carbon (SOC) sequestration is one of the key methods for mitigating climate change and promoting soil fertility, accurately measuring current and future carbon levels becomes increasingly important for agrarians. Having base levels of carbon determined through soil sampling and historical productivity maps at hand, the RothC prediction model can then be applied to forecasting future SOC amounts, assuming consistent farming practices.
RothC predictions based on our crop productivity maps can equip farmers with a comprehensive understanding of their carbon levels – both the present state and future potential.
As the webinar concluded, the speakers unveiled the promising prospects of EOS SAT, set to be the world's first agriculture-focused satellite constellation among remote sensing tech companies. With the ability to revisit any given area every 5-6 days, this groundbreaking project promises to elevate the quality of business insights, particularly in terms of crop productivity maps, announcing a new advancement in agricultural analytics.