On December 8, 2022, at 10 AM PT/7 PM CET, EOS Data Analytics, a global provider of AI-powered satellite imagery analytics, will host a free webinar focused on the start of EOS SAT, the world's first agri-focused satellite constellation launched by a company utilizing remote sensing technologies, and the ways it will help mitigate negative effects of climate change and reach a more sustainable future.
The presenters will discuss the technical characteristics and benefits of EOS SAT, how it is expected to affect the market, and why it's a part of EOSDA's global sustainability mission. The details of the December launch of EOS SAT-1, the first satellite of the constellation, will also be revealed. The webinar will last approximately 1.5 hours.
The event will be most interesting for space enthusiasts, environmentalists, and various organizations, such as agritech developers, input suppliers, insurance providers, government entities, food producers, banking and loan businesses, investors, and educational communities.
Satellite technologies have been proven to be a crucial tech factor in reaching global sustainability practices. By providing accurate data and insights on climate change, soil and water quality, yield prediction, and more, satellite-based analytics is helping thousands of agriculture-related businesses manage nature better.
With a set of agri-focused sensors that monitor specifically the state of the Earth's forests and fields, EOS SAT will bring the possibilities of satellite technologies to the next level by providing EOSDA with datasets it will own and analyze to provide more insights for its customers and partners.
The webinar presenters will be:
Rim Elijah, VP of Sales at EOSDA
Vera Petryk, Chief Marketing Officer at EOSDA
Vladimir Verbonol, Chief Product Officer at EOSDA
Aleksandr Kryvoshein, Senior Researcher at EOSDA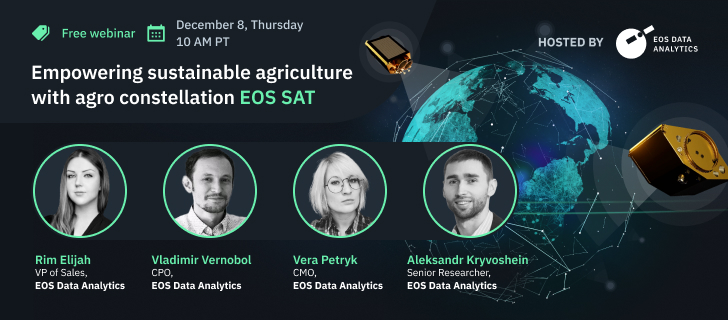 Speakers will discuss the following topics:
What agri-focused satellites are for and why agricultural markets need them
The story behind the EOS SAT project and its in empowering sustainable agriculture
Technical characteristics and benefits of the EOS SAT
EOSDA's background and how EOS SAT fits its sustainability mission
The market demand for satellite tech shows a major data gap for the agriculture industry. EOS SAT is designed specifically to address this shortcoming by collecting extensive amounts of information about the state of the lands. As a result, more frequently captured areas, increased data accuracy, and overall better analytics can make a dramatic impact on the issues of food security, biodiversity, and sustainability in the long term.

Rim Elijah

VP of Sales at EOS Data Analytics
Vera Petryk will reveal how exactly EOS SAT will drive the company's sustainability commitments.
EOS SAT perfectly follows our vision to make space tech a global driver of sustainability on Earth. Its ultimate goal is to help produce more food with fewer resources and minimal environmental harm. Having such a satellite constellation, EOSDA will be able to bring even more benefits to not just agribusinesses, but the planet as a whole.

Vera Petryk

Chief Marketing Officer at EOS Data Analytics
Vladimir Verbonol will explain the technical details of the project.
Our constellation of seven small optical satellites is designed to help tackle today's most challenging issues in agriculture: climate change, deforestation, soil degradation, food crisis, and water scarcity. The EOS SAT spacecrafts' sensors will provide unprecedented data on it by capturing images of the planet's surface using thirteen different bands.

Vladimir Verbonol

Chief Product Officer at EOS Data Analytics
Attendees will be able to ask questions to speakers during a Q&A session. Registered users will get a confirmation email and the event reminder with the agenda, timing, and details on joining the webinar on the event day. The event will be recorded.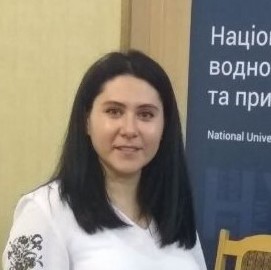 Natalia Ivanchuk holds a Master's degree in Applied Mathematics (2013) from the National University of Water and Environmental Engineering. She is an author of 60+ scientific publications, monographs, and other scientific works.
In 2019, she successfully defended a thesis, "Mathematical modeling of filtration processes in soil environments taking into account the influence of elements of engineering structures" and earned the Candidate of Technical Sciences degree.
Currently, Natalia is an Associate Professor at the Department of Computer Sciences and Applied Mathematics at the National University of Water and Environmental Engineering in Rivne, Ukraine. She teaches different programming languages (C++, C#, JS, among others) at the said university.
Natalia is actively engaged in scientific research related to the practical application of new programming algorithms. Programming is also something she likes to do in her spare time.
Her expertise and constant desire to learn and perfect her programming skills, especially in working with Python, has been most beneficial for EOS Data Analytics.