Webinar: Fighting Soil Degradation With EOSDA Solutions
On January 31, 2023, at 10 AM PT/7 PM CET, EOS Data Analytics, a global provider of AI-powered satellite imagery analytics, will host a free webinar focused on digital soil mapping and crop modeling, as well as their role in monitoring and sustaining soil health and maximizing crop yields.
The presenters will discuss how satellite imagery analytics assist in reaching sustainability practices, especially in mitigating soil degradation risks. The webinar will last approximately 1.5 hours.
Food production companies, agribusinesses and agri-cooperatives, specialists from the banking, consultancy, and telecom branches involved in the agriculture industry, and everyone interested in reaching food security by leveraging modern tech in agriculture will find the event worth their attention.
Climate change causes multiple challenges for the agriculture industry all around the world. Extreme events, such as droughts, extreme heat, storms, forest fires, and floods, lead to loss of biodiversity, soil degradation, and, as a result, food insecurity. To mitigate the consequences of such events and risks of similar climate change effects in the future, agribusinesses turn to space technologies. One such case is the utilization of AI-powered satellite imagery analytics for soil mapping and crop modeling.
Since digital soil maps are based on satellite imagery and math, they are highly accurate and can then be used for soil property and soil type mapping, as well as agrochemical cartograms. With the ability to quickly grasp the state of the soil on its land at any given moment, agribusinesses get an opportunity to react to unwanted events before they take place or cause maximum damage.
The webinar presenters will be:
Vasyl Cherlinka, Soil Scientist at EOS Data Analytics
Lina Yarysh, Head of Customer Success at EOS Data Analytics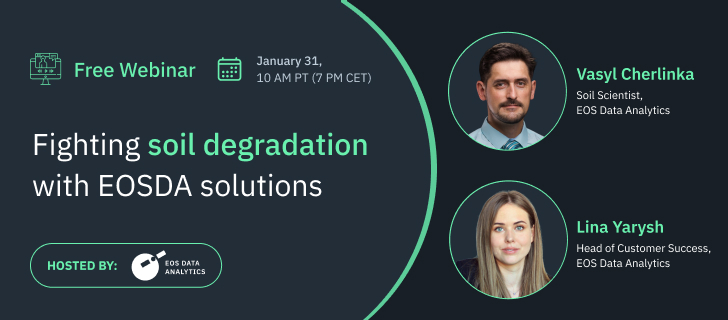 Speakers and hosts will discuss the following topics:
The science behind soil degradation and ways of addressing it
Methods of digital soil mapping and crop modeling
The role of soil mapping and crop modeling in monitoring and sustaining soil health and maximizing crop yields
EOS Data Analytics has recently launched its own first EOS SAT-1 satellite: how it can help prevent soil degradation
Digital mapping reveals the types and levels of soil degradation so that agrarians could come up with a plan for improving soil fertility. Since there are several methods for that, finding the correct combination of ways to influence the soil will determine the fate of future crops on it.
Lina Yarysh, Head of Customer Success at EOS Data Analytics, will conclude the main webinar part with the company's satellite constellation presentation and reveal how agri-focused satellites can power up soil mapping and crop monitoring.
If businesses are to rely on modern technologies in soil mapping and yield prediction projects, they want to make sure the calculations are as accurate and reliable as possible. This expectation brings up the need for special agri-focused satellites in low Earth orbit, and we've just launched one. By 2025, the constellation of seven satellites named EOS SAT will bring high-resolution imagery of any land and allow us to have complete control over data acquisition, analysis, and delivery. We consider this to be a game changer for the ag world.
A Q&A session will take place after the webinar's main part. Registered users will receive detailed information on how to join the event. In addition, a broadcast recording will be available.
About the author:
Vasyl Cherlinka has over 30 years of experience in agronomy and pedology (soil science). He is a Doctor of Biosciences with a specialization in soil science.
Dr. Cherlinka attended the engineering college in Ukraine (1989-1993), went on to deepen his expertise in agrochemistry and agronomy in the Chernivtsi National University in the specialty, "Agrochemistry and soil science".
In 2001, he successfully defended a thesis, "Substantiation of Agroecological Conformity of Models of Soil Fertility and its Factors to the Requirements of Field Cultures" and obtained the degree of Biosciences Candidate with a special emphasis on soil science from the NSC "Institute for Soil Science and Agrochemistry Research named after O.N. Sokolovsky".
In 2019, Dr. Cherlinka successfully defended a thesis, "Digital Elevation Models in Soil Science: Theoretical and Methodological Foundations and Practical Use" and obtained the Sc.D. in Biosciences with a specialization in soil science.
Vasyl is married, has two children (son and daughter). He has a lifelong passion for sports (he's a candidate for Master of Sports of Ukraine in powerlifting and has even taken part in Strongman competitions).
Since 2018, Dr. Cherlinka has been advising EOSDA on problems in soil science, agronomy, and agrochemistry.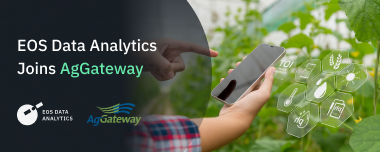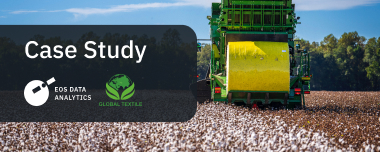 Stimulating Cotton Growth In Uzbekistan
Global Textile has been successfully utilizing EOSDA Crop Monitoring for over two years to obtain information about the vegetative development and help take care of their farmers' cotton fields.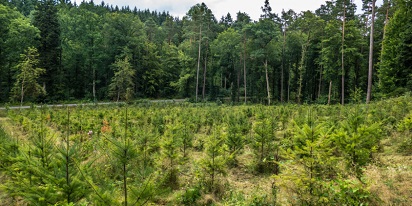 Reforestation: Pros, Cons And Effects On Planet
Reforestation has far-reaching benefits, from enhancing ecosystem services to fostering a more sustainable future. But we can only reap these rewards if we start well-planned reforestation right away.