Webinar: EOSDA & AWS On Sustainable Agriculture
On April 27, at 4 PM CET / 10 AM EDT, EOS Data Analytics, a global provider of AI-powered satellite imagery analytics, and Amazon Web Services (AWS) will host a free webinar. The event will focus on the role of cloud-based technologies and satellite data to drive sustainable agriculture solutions.
The presenters will reveal how EOSDA's satellite and remote sensing technologies are used for sustainable agriculture practices and how AWS can be leveraged for geospatial and agricultural activities. The webinar will last approximately 1.5 hours.
Agribusinesses, GIS experts, space enthusiasts, journalists, and anybody who's interested in the topic of sustainable agriculture are welcome to attend the event.
As the demand for food production intensifies, traditional agricultural practices exacerbate issues such as soil degradation, water scarcity, deforestation, and loss of biodiversity. These challenges not only threaten long-term food security but also contribute to climate change, as agriculture remains a significant source of greenhouse gas emissions. By embracing sustainable agriculture, we can enhance soil health, protect ecosystems, and reduce our carbon footprint, while simultaneously ensuring the well-being of present and future generations.
The webinar presenters will be:
Rim Elijah, VP of Sales at EOS Data Analytics
Phil Cooper, Global Geospatial Sales Lead at AWS
Brijesh Thoppil, Strategic Partnerships Lead at EOS Data Analytics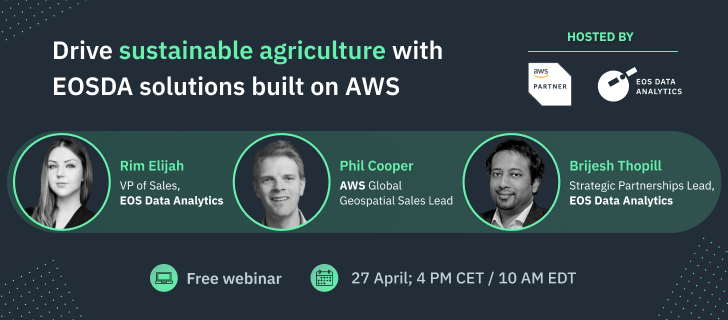 Speakers and hosts will discuss the following topics:
Overview of currently existing satellite and remote sensing technologies leveraging AWS.
Real-world examples of monitoring crop health, optimizing irrigation, and land management using EOSDA solutions built on AWS.
The impact of geospatial and agriculture activities practices by AWS on sustainable farming practices.
Exploring the synergy of cloud, space, and agricultural technologies at AWS.
During the webinar, we will highlight the transformative role of EOSDA's agri-focused EOS SAT satellite constellation in sustainable agriculture. These seven spacecraft, equipped with specialized spectral bands, enable precise monitoring and data-driven insights, while our AWS cooperation ensures seamless data management, fostering a more sustainable and resilient global food system.
Attendees will be able to ask questions to speakers during a Q&A session. Registered users will get a confirmation email and the event reminder with the agenda, timing, and details on joining the webinar on the event day. The event will be recorded.
About the author:
Rim Elijah joined EOSDA in early 2020. She holds a double degree in business administration and political science from Stockholm University.
Rim is VP of Sales at EOSDA. She is overseeing all aspects of business model development and implementation, maintenance of positive business & customer experience, and the growth of the company's global coverage. She is responsible for closing deals, scaling up ongoing projects, as well as the development and implementation of process control within the Sales department. Rim also regularly takes part in negotiations with important clients.
So far, Rim has managed to successfully establish a number of strategic partnerships with an emphasis on the delivery of sustainable solutions in various regions of Africa and Asia.
In addition to her main responsibilities, Rim is presently involved in the upcoming launch of the first agri-based satellite constellation by EOSDA, scheduled for mid-2022. She manages relationships with the EOS SAT investors.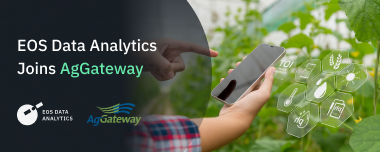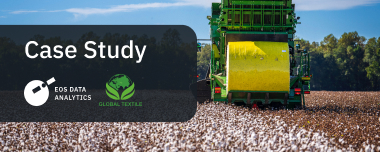 Stimulating Cotton Growth In Uzbekistan
Global Textile has been successfully utilizing EOSDA Crop Monitoring for over two years to obtain information about the vegetative development and help take care of their farmers' cotton fields.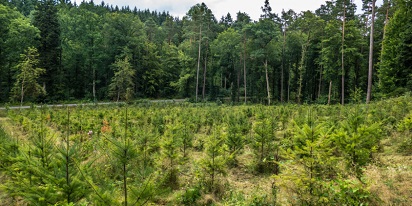 Reforestation: Pros, Cons And Effects On Planet
Reforestation has far-reaching benefits, from enhancing ecosystem services to fostering a more sustainable future. But we can only reap these rewards if we start well-planned reforestation right away.