On July 5, at 10 AM CT, EOS Data Analytics, a global provider of AI-powered satellite imagery analytics, will host an open-door webinar on advances in precision agriculture in Mexico's agricultural sector and the purpose of satellite tools in supporting field operations. The event will be in Spanish and last up to 1.5 hours.
The webinar will be useful for crop growers, food producers, input suppliers, insurance companies, and other industry representatives working in Mexico. EOSDA, AgriCenter Zevilla, Cosmocel, S.A., and Der Neue Horizont Re, S.A. (DNHR) will discuss how agriculturalists can benefit from precision agriculture practices.
Among the speakers will be:
Dmytro Svyrydenko, Business Development Manager at EOS Data Analytics
Dr. Gregorio Núñez Hernández, Marketing and Development Leader at AgriCenter Zevilla, a provider of products for crops and technical services for crop production
Francisco Javier Martinez Mas, Strategic Planning and Innovation Coordinator at Cosmocel, S.A., a provider of specialty solutions for the agricultural market
Efrain Lechuga Valencia, Claims Manager at Der Neue Horizont RE, S.A., the reinsurer of agricultural risks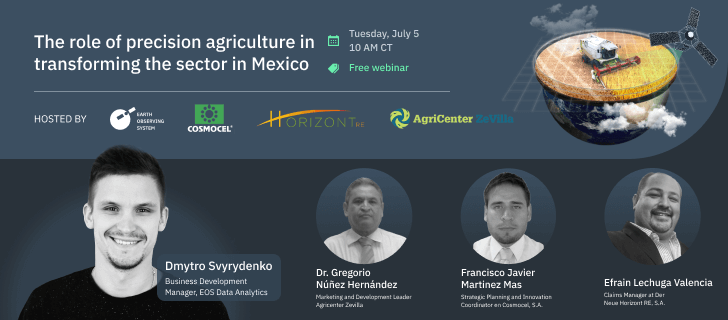 Our partners and we are excited to discuss how following the tech-infused approach to farm management can lead the agro entrepreneurs toward improved productivity and rational use of natural resources, crop chemicals, as well as labor savings and reduction in fuel consumption. I believe the wider adoption of such technologies as satellite monitoring will allow Mexico to boost the industry's growth. The sector growth, of course, implies more earnings for farmers. Thanks to constant access to up-to-date data about weather and the state of fields, they could minimize harmful influence of climate-related events to crops and generally maintain optimal conditions for their growth.

Dmytro Svyrydenko

Business Development Manager at EOS Data Analytics
The presenters will discuss these topics:
Precision agriculture in Mexico and its role in transforming the Latin American market
Agriculture in the digital age: Turning challenges into opportunities with smart farming tools. Presentation by AgriCenter Zevilla.
How our sales representatives improved their productivity and increased customer loyalty by using satellite imagery for daily tasks. Use case by Cosmocel, S.A.
Use case by Der Neue Horizont RE, S.A: The EOSDA Crop Monitoring remote sensing technology for insurance companies.
Prospects of using satellite monitoring for Mexican agribusinesses.
EOS SAT — the first commercial agriculture-focused satellite constellation to be launched by a company using remote sensing.
Introduction of precision agriculture with satellite monitoring has led AgriCenter Zevilla to improve technical services for crop production. We now can follow our customer production programs through satellite imagery to provide better client support. We have improved our soil management, hybrid selection, seeding rates, fertilization programs, irrigation, and harvested practices by matching satellite imagery with our field data. So, statistical analysis of satellite images and field data has allowed us to identify critical factors for crop production.

Dr. Gregorio Núñez Hernández

Marketing and Development Leader at AgriCenter Zevilla
Besides differentiating the company in the current market, satellite imagery helped the team upgrade diagnostic tools for product positioning and give more accurate crop management recommendations. This data also allowed employees to detect possible issues in the fields. The engagement with clients has improved.

Francisco Javier Martinez Mas

Strategic Planning and Innovation Coordinator at Cosmocel, S.A.
All agriculture players — input suppliers, financial agents (banks), insurers, and food producers — reap the benefits from precision farming tools and technologies. Farmers, for instance, can manage resources (inputs, water, machinery) to achieve great productivity at the lowest possible cost while minimizing environmental harm. We use satellite crop monitoring technology since it allows us to validate plant conditions in the shortest possible time.

Efrain Lechuga Valencia

Claims Manager at Der Neue Horizont RE, S.A.
Traditionally, speakers will answer viewers' questions during a Q&A session after the event's main part. The details on how to join the webinar will be available after the registration. The event will be recorded so registered users can rewatch it after the broadcast.
EOS Data Analytics is committed to popularizing precision agriculture among Mexican industry players.
About Agricenter ZeVilla
AgriCenter Zevilla provides high-quality products for crops — fertilizers, agrochemicals, and seeds — as well as analytical services, such as soil, water, and plant analysis. The company's range of services also includes selling greenhouse products and renting machinery and equipment. AgriCenter Zevilla has a nationwide presence in Mexico.
About Cosmocel, S.A.
Cosmocel is a leader in the innovation, manufacturing and commercialization of specialty solutions for the agricultural market. With more than 60 years of experience, the company remains true to the reason for being: "Nothing but the best for the farmers." Cosmocel innovates and formulates specialty solutions based on the physiology and specific objectives of modern plant nutrition, which are also respectful of the planet and friendly to the environment.
Under a philosophy of continuous improvement and cutting edge, the company works with prestigious universities, research centers and recognized institutions around the world with the aim of developing new technologies to offer high-performance products under high quality standards.
Cosmocel has advanced laboratories, accredited by the American Association for Laboratory Accreditation with the recognized international standard ISO/IEC 17025:2005, which house a team of scientists focused on guaranteeing the quality and innovation of their formulations based on current market trends in the world.
About Der Neue Horizont Re, S.A.
Based in Mexico with headquarters in Chihuahua, Der Neue Horizont Re, S.A. (DNHR) is a reinsurer of agricultural risks. By providing reinsurance services, Der Neue Horizont protects the insurance cases of their clients (aka cedents) in the agricultural sector and employs EOSDA Crop Monitoring to validate insurance claims.
The company is constantly improving its operation standards for the best quality of service, which has gained customer trust, and regularly passes the Fitch Ratings audits. In 2021, Der Neue Horizont Re, S.A. was issued 'B' and 'BB (mex)' Insurer Strength credit quality, confirming that DNHR met its financial commitments. Der Neue Horizont is also a member of ALASA, the Latin American Association for the Development of Agricultural Insurance that aims to unite crop insurers and protect local farmers and ranchers in the Latin-American region.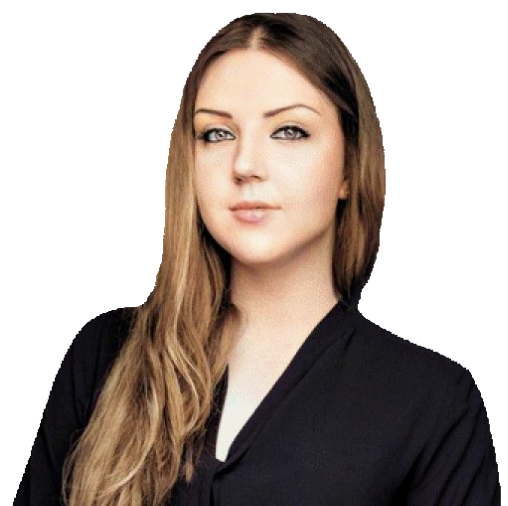 Rim Elijah joined EOSDA in early 2020. She holds a double degree in business administration and political science from Stockholm University.
Rim is VP of Sales at EOSDA. She is overseeing all aspects of business model development and implementation, maintenance of positive business & customer experience, and the growth of the company's global coverage. She is responsible for closing deals, scaling up ongoing projects, as well as the development and implementation of process control within the Sales department. Rim also regularly takes part in negotiations with important clients.
So far, Rim has managed to successfully establish a number of strategic partnerships with an emphasis on the delivery of sustainable solutions in various regions of Africa and Asia.
In addition to her main responsibilities, Rim is presently involved in the upcoming launch of the first agri-based satellite constellation by EOSDA, scheduled for mid-2022. She manages relationships with the EOS AgriSat investors.