On August 23, 2022, at 5 PM (ALMT), EOS Data Analytics, a global provider of AI-powered satellite imagery analytics, together with QOLDAU digital business platform provider, will host a free webinar on using vegetation indices in land remote sensing during the spring field and harvesting works in Kazakhstan.
The webinar will focus on the difficulties in assessing yields and planning agricultural work and the use of satellite remote sensing data for evaluating the condition of fields.
Viewers will also learn about the history of EOS Data Analytics, the EOSDA Crop Monitoring platform's capabilities, particularly vegetation indices. The online event will be held in Russian and will last up to 1.5 hours.
The webinar will be helpful for farmers, suppliers of fertilizers and agricultural machinery, food producers, and everyone interested in innovations in Kazakhstan's agriculture.
Kazakhstan is one of the largest and fastest-growing markets in Central Asia. In the country, whose area is 272.5 million hectares, 22.9 million hectares of land are used for growing crops (as of 2021). At the same time, farms that manage 1–10 thousand hectares cultivate 58% of arable land. There are more than 30 thousand such farms in Kazakhstan.
The conventional way of assessing the state of crops, soil, and the correctness of the agricultural operations entails personal field inspections by agronomists-scouts. This is a time- and effort-consuming and, therefore, costly process. Solutions based on satellite imagery analytics allow monitoring large areas of fields in near real-time, prioritizing scouting, and optimizing the application of crop chemicals, fertilizers, and water for irrigation systems. Thus, farmers can plan their field work to increase yields while reducing resource use and expenses.
Among the speakers will be:
Vitalii Vyshniak, Business Development Manager at EOS Data Analytics
Aleksandr Kryvoshein, Senior Researcher at EOS Data Analytics
Kairat Sultanbekov, QOLDAU representative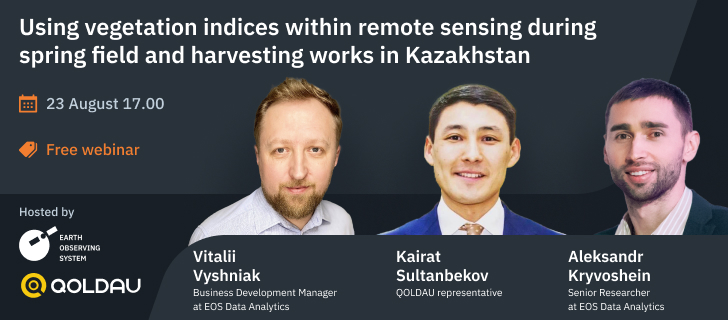 The speakers will discuss these topics:
Problems faced by farmers in assessing yields and planning field activities.
How does satellite data help evaluate the state of the cultivated land remotely?
A brief history of EOS Data Analytics and an overview of EOSDA Crop Monitoring's capabilities.
How can farmers use vegetation index values in their work?
Case study: Field analysis with vegetation indices using examples from farms in Kazakhstan.
I'm excited about conducting this educational event with a colleague from QOLDAU. Our goal is to show agrarians that they can rely on satellite analytics to make grounded decisions regarding field operations and explain how to use digital solutions with examples. Implementing precision agriculture is easier than it seems at first glance.

Vitalii Vyshniak

Business Development Manager at EOS Data Analytics
Modern technologies permit farmers to work efficiently, which is especially important given climate change-related weather extremes — droughts and floods. Analysis of satellite images of fields with vegetation indices allows farmers to accurately determine the condition of crops and soil by numerous indicators and promptly react to changes in crop vegetation, thereby increasing the likelihood of harvesting as many healthy crops as possible. I'm glad we can demonstrate the effectiveness of using indices with real cases.

Kairat Sultanbekov

QOLDAU representative
A Q&A session will take place after the webinar's main part. Registered users will receive detailed information on how to join the event. In addition, a broadcast recording will be available.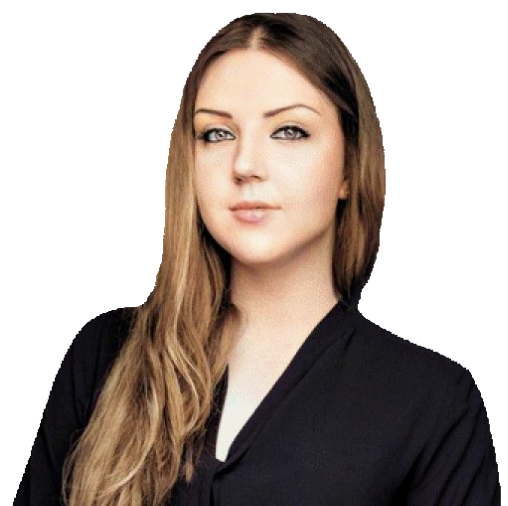 Rim Elijah joined EOSDA in early 2020. She holds a double degree in business administration and political science from Stockholm University.
Rim is VP of Sales at EOSDA. She is overseeing all aspects of business model development and implementation, maintenance of positive business & customer experience, and the growth of the company's global coverage. She is responsible for closing deals, scaling up ongoing projects, as well as the development and implementation of process control within the Sales department. Rim also regularly takes part in negotiations with important clients.
So far, Rim has managed to successfully establish a number of strategic partnerships with an emphasis on the delivery of sustainable solutions in various regions of Africa and Asia.
In addition to her main responsibilities, Rim is presently involved in the upcoming launch of the first agri-based satellite constellation by EOSDA, scheduled for mid-2022. She manages relationships with the EOS AgriSat investors.