EOS Data Analytics (EOSDA), a global provider of AI-powered satellite imagery analytics, and Agronómico, a provider of high-tech services in soil management and agricultural research, will host a webinar in Spanish to discuss farming challenges and opportunities in smart farming in South America.
The webinar covers the importance of satellite analytics as a decision support tool that helps overcome farming challenges. It will be beneficial for growers, agritech experts, and those who are interested in environmentally friendly agricultural solutions.
During the webinar, the speakers will review the South American use cases of precision farming technologies and discuss their value from different perspectives.
Among the presenters:
Dmitry Svyrydenko, Agri Solution Consultant in the South American region at EOS Data Analytics.
André Zabini, Technical Director at Agronómico.
Mauricio Aguirre Morales, API Solution Consultant at EOS Data Analytics.
Natasha Valadares dos Santos, Data Processing Manager at Agronómico.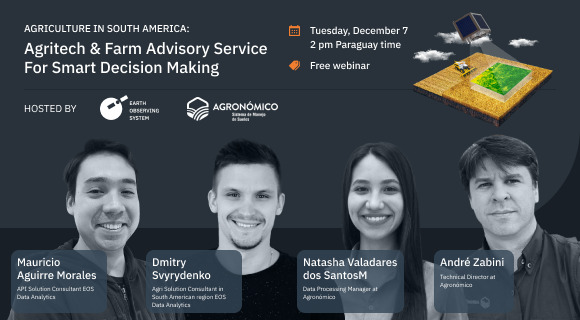 To be covered:
Agriculture in South America: Farming challenges and opportunities.
Diagnostic and decision support tools for smart farming.
How do crop advisors help farmers save their yields?
Future of satellite data and precision platforms as decision support for growers
Crop advisors as a connecting link between fast-developing Agri technology and growers
We are happy to announce the first public webinar together with Agronómico. Nowadays, satellite analytics plays a critical role in precision agriculture development, and we're pleased to be one of the agritech pioneers for the South American region. We believe that the satellite technologies use cases we're going to discuss during the webinar will equip the audience with valuable insights. To make this experience-sharing event even more fruitful, we encourage you to participate in the Q&A session held after the main part. Join us!

Mauricio Aguirre Morales

API Solution Consultant at EOS Data Analytics
Agronómico is delighted to announce a joint webinar with EOS Data Analytics. Agronómico was founded in 2015 to provide technical services and give insights to decision-makers in agricultural areas. Focus on the techniques in soil management and crop monitoring, namely the use of satellite images, has been a key tool to understand the variability of our customers' areas. We expect to discuss how to use these tools for assessing soil fertility and monitoring the main crops present in South America. Also, the sessions will provide an opportunity to discuss challenges and opportunities to agriculture development in South America. We're looking forward to meeting you all at our event during the Q&A session.

Natasha Valadares dos Santos

Data Processing Manager at Agronómico
The free webinar will take place on Tuesday, December 7, at 2-3.30 pm, Paraguay time, in Spanish. The attendees are welcome to participate in the Q&A session after the event's main part.
Information on how to access the webinar will be available after the registration. We'll provide the registered users with the recording of the webinar.
About Agronómico
Agronómico's objective is to provide technical services and information to help producers and/or companies in the decision-making process in agriculture, with special attention to the technical management of soil and crops. For this purpose, Agronómico has laboratories, equipment, and highly qualified personnel to meet the needs of diagnosis and soil management to contribute to efficient agriculture.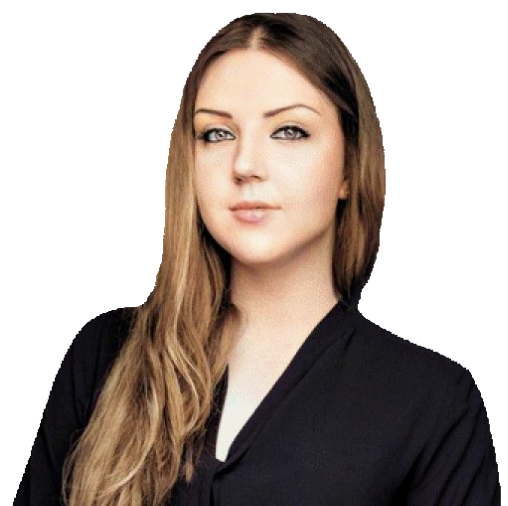 Rim Elijah joined EOSDA in early 2020. She holds a double degree in business administration and political science from Stockholm University.
Rim is VP of Sales at EOSDA. She is overseeing all aspects of business model development and implementation, maintenance of positive business & customer experience, and the growth of the company's global coverage. She is responsible for closing deals, scaling up ongoing projects, as well as the development and implementation of process control within the Sales department. Rim also regularly takes part in negotiations with important clients.
So far, Rim has managed to successfully establish a number of strategic partnerships with an emphasis on the delivery of sustainable solutions in various regions of Africa and Asia.
In addition to her main responsibilities, Rim is presently involved in the upcoming launch of the first agri-based satellite constellation by EOSDA, scheduled for mid-2022. She manages relationships with the EOS AgriSat investors.