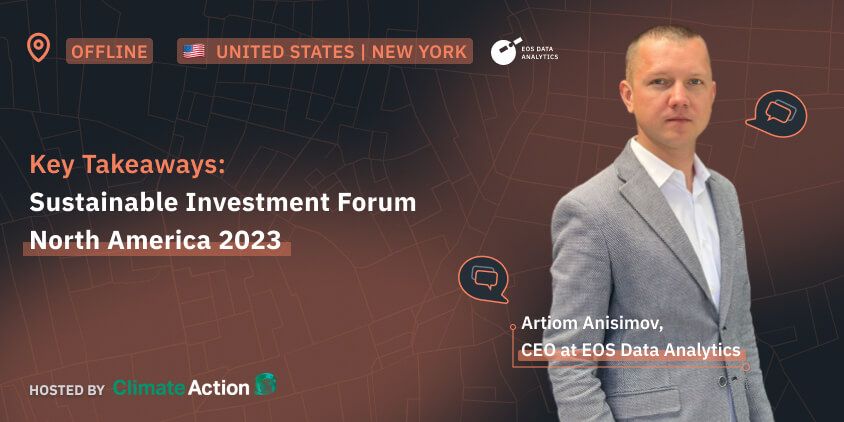 Duration:1 day
Language:English
Artiom Anisimov Attended Sustainable Investment Forum
We are excited to inform you that our CEO, Artiom Anisimov, attended the Sustainable Investment Forum North America 2023 as a delegate.
The Sustainable Investment Forum North America is known for convening visionary leaders, industry experts, and policymakers to foster collaboration and drive a sustainable net-zero global economy. It presented an ideal platform for Artiom Anisimov to share his wealth of knowledge and insights, as well as to network with key stakeholders in the field. As a delegate, Artiom Anisimov represented EOSDA, emphasizing our dedication to sustainable solutions. His participation in this forum affirmed our mission to drive innovation and help shape a better, more sustainable future.
We extend our gratitude to the hosts of the Sustainable Investment Forum North America for offering this exclusive invitation to Artiom Anisimov. This recognition was a testament to the significant impact EOSDA had already made in the realm of sustainable investment and the global blockchain community.
We eagerly anticipate the knowledge and perspectives Artiom Anisimov brought back from this prestigious event.
Let's continue striving for a sustainable and responsible future together!