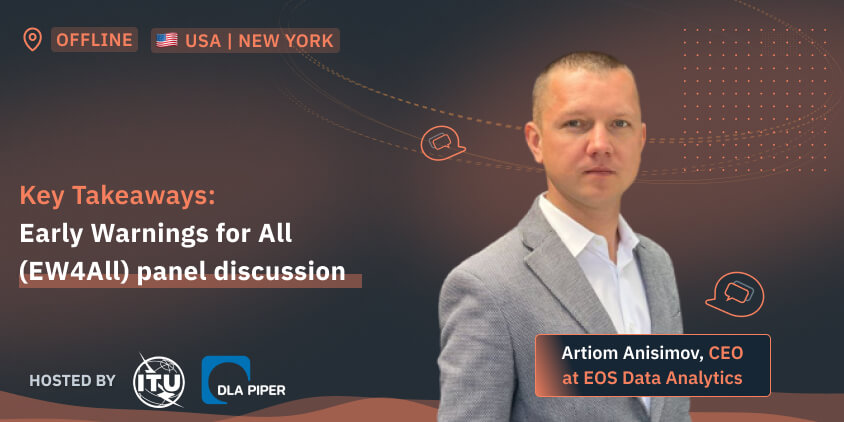 Duration:1 day
Language:English
EOSDA Joined EW4All 2023 Panel Discussion In New York
We are delighted to inform you that our CEO, Artiom Anisimov, recently attended a remarkable panel discussion, "Early Warnings for All (EW4All)," held in New York City. This insightful event was organized by DLA PIPER and ITU, bringing together industry experts and thought leaders from various domains.
The panel discussion revolved around the importance of early warnings in our rapidly changing world. With the advent of technology and the ever-increasing complexity of global challenges, the need for proactive measures becomes crucial. Through engaging discussions and thought-provoking presentations, the speakers shed light on the significance of developing effective early warning systems across different sectors.
Following the enlightening panel discussion, Artiom Anisimov also took part in the networking session. This provided an excellent opportunity for meaningful connections and collaborations among the attendees, ensuring the exchange of ideas and fostering future partnerships.
We extend our gratitude to DLA PIPER and ITU for organizing this impactful event. We firmly believe that by collectively working towards early warnings for all, we can create a safer and more resilient future.
Please stay tuned to our events page for more updates on our participation in upcoming industry events and insightful discussions.