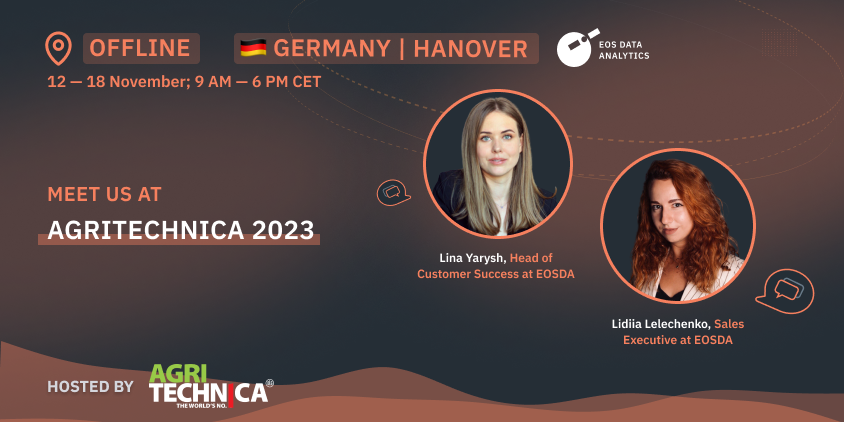 Duration:4 days
Language:English
EOSDA To Attend AGRITECHNICA 2023 This November
Date:12.11.2023
Time:09:00 (GMT+02:00)
Location:Germany, Hanover
Hosted by:AGRITECHNICA
Representatives:Lidiia Lelechenko, Lina Yarysh
EOSDA is excited to announce our participation as delegates at AGRITECHNICA, one of the world's leading trade fairs for agricultural technology. The event will take place in Hanover, Germany, from 12th to 18th November 2023.
We are happy to seize this opportunity to connect with industry professionals, showcase our innovative solutions, and foster valuable partnerships in the agricultural technology sector. As pioneers in the field, EOSDA aims to revolutionize farming practices and contribute to sustainable agricultural advancements globally.
This event offers an excellent opportunity for networking, learning about the latest trends, and exploring cutting-edge technologies.
During the exhibition, our team of experts will be available to discuss on-site how EOSDA's groundbreaking solutions can drive productivity, efficiency, and environmental sustainability within the agricultural sector. We look forward to engaging in insightful conversations, exchanging ideas, and exploring potential collaborations with the professionals sharing our vision.
Our representatives will be available throughout the event to answer questions, provide demonstrations, and discuss the potential benefits of our solutions for your specific agricultural needs.
Don't miss this opportunity to connect with us at AGRITECHNICA 2023. Mark your calendars for November 12th to 15th and join us in Hanover, Germany, to witness the future of agricultural technology!