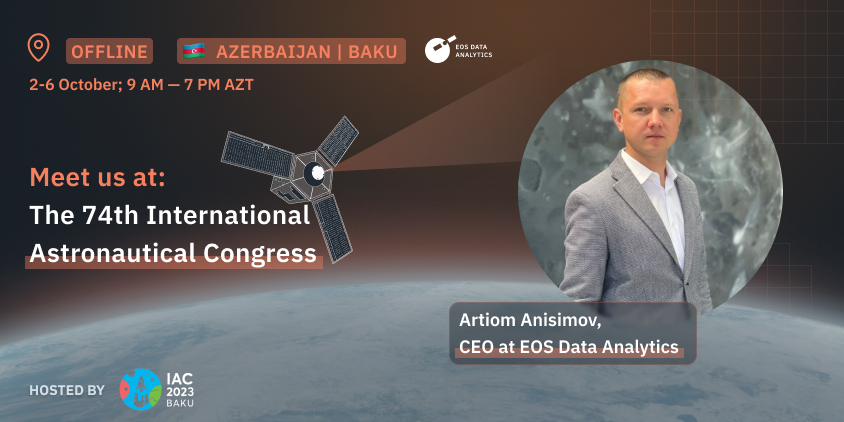 Duration:5 days
Language:English
Artiom Anisimov Will Attend IAC 2023 In Baku
Date:02.10.2023
Price:Check on the event's website
Time:10:00 (GMT+03:00)
Location:Azerbaijan, Baku
Hosted by:IAC 2023
Speakers:Artiom Anisimov
We are thrilled to announce that Artiom Anisimov, the CEO of EOSDA, will be attending the 74th International Astronautical Congress (IAC) 2023 as a distinguished delegate.
The IAC, one of the largest and most significant events in the space industry, will be held from October 2nd to October 6th, 2023.
Artiom Anisimov's presence at the IAC 2023 signifies EOSDA's commitment to advancing the field of space and satellite technology and their dedication to creating innovative solutions for environmental monitoring and geospatial analysis. It is also worth mentioning that EOSDA is a proud member of the International Astronautical Federation, the organizing federation of this event.
As a delegate, Mr. Anisimov will have the opportunity to engage with fellow industry leaders, connect with experts from different domains, and contribute to shaping the future of space exploration and research. His presence at the IAC 2023 is a testament to his knowledge and expertise in the field, serving as an ambassador for EOSDA's vision and initiatives.
We invite all space enthusiasts, professionals, and stakeholders to join us at the IAC 2023, where you can meet Artiom Anisimov and learn more about EOSDA's groundbreaking work in satellite imagery, data analytics, and environmental preservation.
We believe that this event will be a fantastic platform to exchange ideas, explore collaborations, and contribute to the advancement of space technologies for a sustainable future.
Mark your calendars for IAC 2023 and don't miss the chance to connect with EOSDA and our visionary CEO! Let us unlock the potential of space for environmental monitoring together.