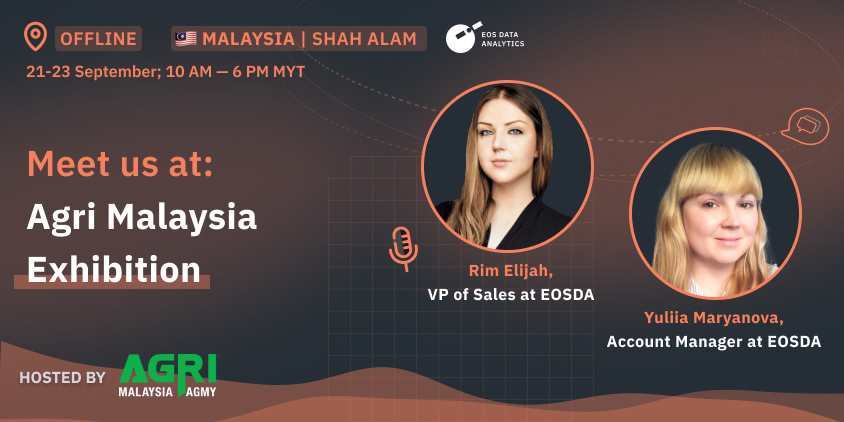 Duration:3 days
Language:English
EOSDA To Attend Agri Malaysia 2023 – Join Us On-Site!
We are pleased to announce that EOSDA will be attending the most authoritative agricultural technology exhibition in Malaysia, Agri Malaysia 2023 event, scheduled to take place from 21st to 23rd September in Shah Alam.
This prominent agricultural exhibition brings together industry experts and stakeholders from various sectors to exchange knowledge, explore innovative solutions, and forge valuable partnerships.
EOSDA's VP of Sales, Rim Elijah, and Account Manager, Yuliia Maryanova, will be among the distinguished representatives attending the event. We are thrilled to share that they will not only be present at our booth to engage with fellow participants but will also take to the stage as esteemed speakers.
During the event, EOSDA will be collaborating with our valued client, Dole, to deliver a captivating presentation on the topic of sustainable agriculture. This presentation will highlight the successful case of Dole and how their work with EOSDA has enabled a technologically advanced and eco-friendly approach to farming and food production.
We invite all attendees to visit our booth and interact with Rim and Yuliia to learn more about EOSDA's cutting-edge solutions and the significant impact they are making in the field of sustainable agriculture. This will be an excellent opportunity to explore potential collaborations, discuss industry trends, and discover how EOSDA's innovative technologies can benefit your organization.
Join us at Agri Malaysia 2023 and be part of this exciting event. Together, we can shape a sustainable future for agriculture and contribute to a greener planet.
We look forward to meeting you at our booth and sharing our knowledge and experiences at Agri Malaysia 2023!