On November 15, 2022, at 4 p.m. (ALMT), EOS Data Analytics (EOSDA), a global provider of AI-powered satellite imagery analytics, together with QOLDAU, a digital business platform provider, will host a free webinar on ways to analyze agricultural field conditions during the fall and winter in Kazakhstan.
The webinar will focus on how to remotely assess field conditions based on weather and soil moisture data.
Viewers will also learn how the EOSDA Crop Monitoring platform helps farmers evaluate the state of their fields and examine actual use cases in Kazakhstan. The online event will be held in Russian and will last up to 1.5 hours.
The webinar will be useful for large grain traders, agro-holdings, agro-consultants, and input suppliers.
Kazakhstan is one of the fastest-growing markets in Central Asia: the country has managed to increase its GDP by 6.3 times during the last twenty years. But in order to support the growth of the agricultural industry in the country, where the sown area is 22.9 million hectares (as of 2021), and the yields are low, the application of modern technologies of dynamic soil condition assessment plays a unique role in making correct decisions for planning the work in the fields.
A particularly important parameter of soil here is the amount of its moisture content. The more moisture the soil can accumulate during autumn and winter (especially before the onset of frost), the more successful crop production will be in the post-sowing periods.
With an increasingly arid climate leading to reduced rainfall, farmers resort to various practices to conserve moisture and keep the snow cover longer. For example, after harvesting, they deliberately leave high stubble in the fields to preserve the snow cover. Modern satellite technologies can help determine and forecast the effectiveness of such practices.
Among the speakers will be:
Vitalii Vyshniak, Account Executive at EOS Data Analytics
Aleksey Kryvobok, Chief Science Officer at EOS Data Analytics
Kairat Sultanbekov, Precision Agronomist at QOLDAY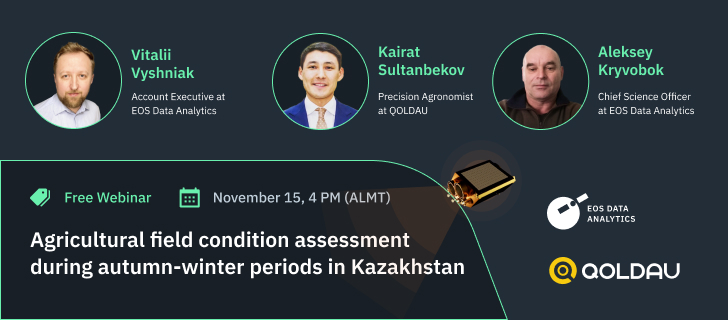 The speakers will discuss the following topics:
Problems agribusinesses face when evaluating fields during the fall-winter period
How to properly assess the condition of the fields
A brief history of EOS Data Analytics and an overview of the EOSDA Crop Monitoring platform features
How does the functionality of EOSDA Crop Monitoring allow remote evaluation of soil conditions in the fields?
Case study: soil condition analysis using the example of Kazakhstani fields
This is going to be the second webinar for the Kazakhstan market, and it is great that agribusinesses are getting more and more interested in using satellite technologies to increase the yield of their fields. This time we want to help farmers take care of their fields in the fall and winter, that is when nothing grows on them, to ensure high yields next season.

Vitaliy Vyshnyak

Account Executive at EOS Data Analytics
The modern platform of EOSDA Crop Monitoring allows the concentration of moisture in the soil to be monitored automatically. Precise monitoring makes it possible to calculate and plan the application of fertilizer and other inputs. The resulting data helps maintain water content at the required level through irrigation and ensure high yields.
Maintaining proper soil moisture is critical for efficient crop production. So far, only satellite sensors are able to provide the most timely and accurate data on conditions of the soil covering big areas. At this webinar, we will tell and show you that it is not that hard to manage such data.

Alexey Kryvobok

Chief Science Officer at EOS Data Analytics
Modern technologies are increasingly used in agriculture to minimize the risks of abnormal weather and economic instability. Today, satellite monitoring presents incredible opportunities specifically for farmers, and during this webinar, we will show real examples of how farmers use soil moisture monitoring technologies to plan works in the fields aimed at improving their yields.

Kairat Sultanbekov

Precision Agronomist at QOLDAU
A Q&A session will take place after the webinar's main part. Registered users will receive detailed information on how to join the event. In addition, a broadcast recording will be available.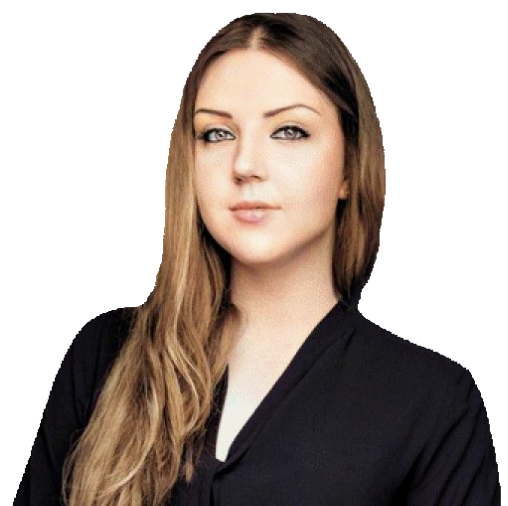 Rim Elijah joined EOSDA in early 2020. She holds a double degree in business administration and political science from Stockholm University.
Rim is VP of Sales at EOSDA. She is overseeing all aspects of business model development and implementation, maintenance of positive business & customer experience, and the growth of the company's global coverage. She is responsible for closing deals, scaling up ongoing projects, as well as the development and implementation of process control within the Sales department. Rim also regularly takes part in negotiations with important clients.
So far, Rim has managed to successfully establish a number of strategic partnerships with an emphasis on the delivery of sustainable solutions in various regions of Africa and Asia.
In addition to her main responsibilities, Rim is presently involved in the upcoming launch of the first agri-based satellite constellation by EOSDA, scheduled for mid-2022. She manages relationships with the EOS AgriSat investors.