EOS Data Analytics (EOSDA), a global provider of AI-powered satellite imagery analytics, will host a free webinar in English to explain how it uses neural networks to transform satellite data into actionable insights for crop production and forestry.
The webinar will be beneficial for managers and tech specialists from companies working in or with agriculture (including food production) and forestry industries having clients from these sectors.
The presenter is Lina Yarysh, Director of Customer Success at EOS Data Analytics. Under Lina's management, the Customer Success team Lina coordinates has already helped more than 6,500 clients to use EOSDA solutions to the fullest.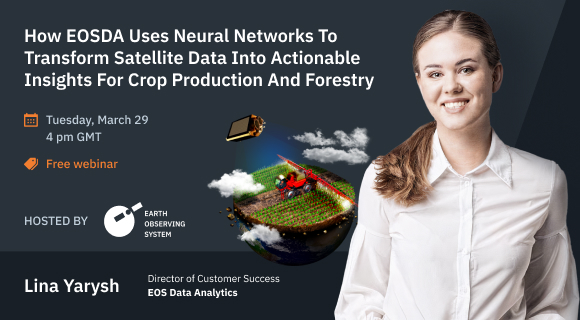 The webinar will cover these topics:
How we train neural networks and what tasks they are good for.
Land cover classification and cloud masking.
Classification of different crop types with real-life examples (case studies):

Detection of sugarcane to estimate the yield potential and its availability over new areas.
Land transparency program in Ukraine. Detection of ~ 19 crops all over Ukraine from 2016 till 2021.

Detection of deforestation areas and tree species classification.
Since the power of neural networks is in their ability to recognize patterns in objects (for instance, entities shown on satellite images), viewers will learn what tasks EOSDA specialists perform to make these algorithms "see" what is shown on an image. Also, the participants will find out what business problems can be solved as classification tasks by neural networks.
Besides out-of-box products that provide satellite insights on the fly, our scientific and engineering team has been building neural networks (CCNs and RNNs) and improving their accuracy. These are the algorithms that power our EOSDA Crop Monitoring platform.

Crop type classification, crop rotation analysis over seasons, and forecast of production effects in agriculture are examples of tasks our customers — food producers, traders, and government entities — solve at every agricultural production stage. Using these insights, producers and traders can understand the availability of the selected crop, optimize storage and logistics, endure the transparency of farming operations, and make it possible to predict costs. Well, that's just a preview of what we'll share with the webinar viewers on March 29. We welcome everyone interested to register.

Lina Yarysh

Director of Customer Success at EOS Data Analytics
Traditionally, viewers will be able to ask questions during a Q&A session scheduled after the event's main part.
Details on how to join the webinar will be available after the registration. The EOSDA team will record the event and share it among registered participants.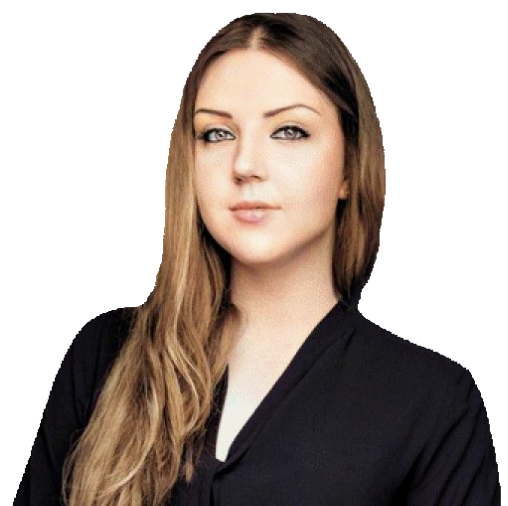 Rim Elijah joined EOSDA in early 2020. She holds a double degree in business administration and political science from Stockholm University.
Rim is VP of Sales at EOSDA. She is overseeing all aspects of business model development and implementation, maintenance of positive business & customer experience, and the growth of the company's global coverage. She is responsible for closing deals, scaling up ongoing projects, as well as the development and implementation of process control within the Sales department. Rim also regularly takes part in negotiations with important clients.
So far, Rim has managed to successfully establish a number of strategic partnerships with an emphasis on the delivery of sustainable solutions in various regions of Africa and Asia.
In addition to her main responsibilities, Rim is presently involved in the upcoming launch of the first agri-based satellite constellation by EOSDA, scheduled for mid-2022. She manages relationships with the EOS AgriSat investors.