EOS Data Analytics launches 7 optical satellites into a Low Earth Orbit by 2025
Get superior insights and make business decisions confidently with EOS SAT - the world's first agri-focused satellite constellation, among companies utilizing remote sensing technologies, uniquely designed to serve agricultural purposes.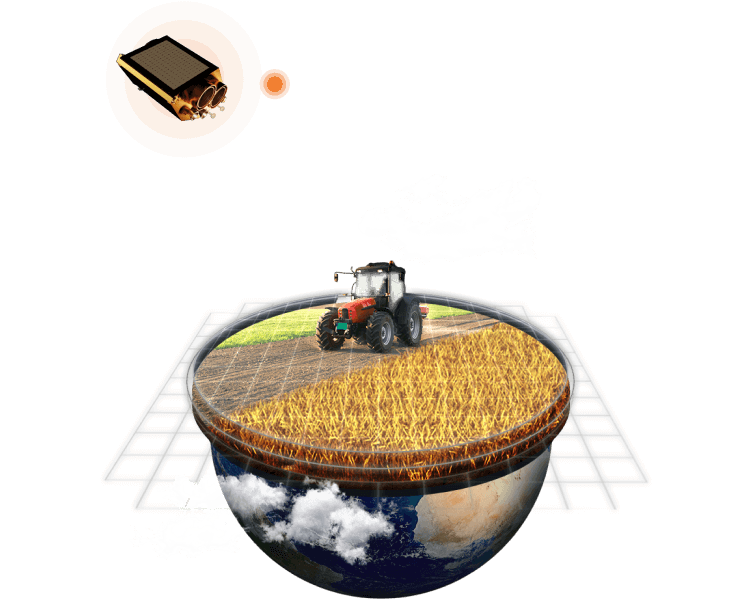 Our Authenticity
Concept of EOS SAT Constellation
7 satellites in sun-synchronous orbit
Total area covered in 1 day: 10 000 000+ km2
Revisit of global farmlands and forest areas within 5-6 days
1-day revisit of target areas on tasking
Up to 100% coverage of the farmlands and forest areas globally
Full cycle from data acquisition to aсtionable insights delivery in 16-24 hours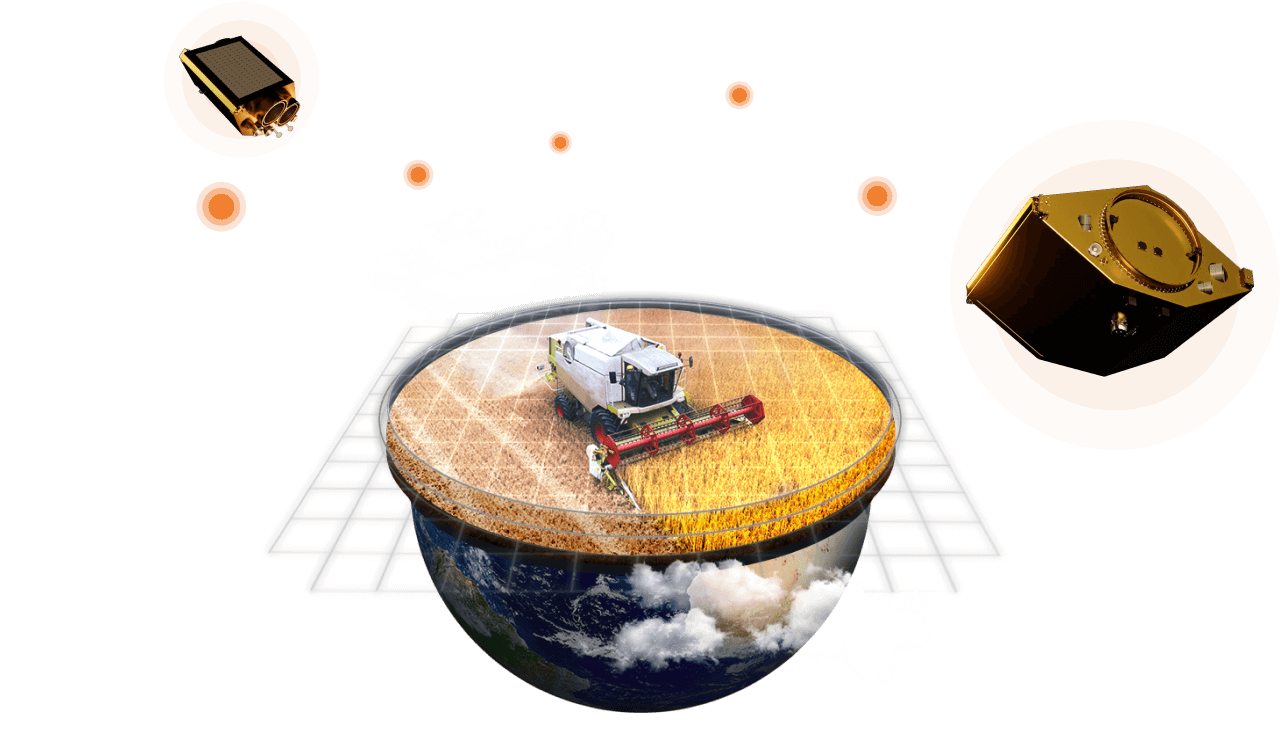 How it works
Complete Cycle from Satellite Assembly to Data Processing
Together with the companies which, like EOSDA, are all part of the Noosphere ecosystem, we've established a full-cycle operational process: from manufacturing and maintenance of satellite details to transforming satellite data into actionable products.
Upstream
Satellite & payload manufacturing
Satellite launch
Space engineering and imager products
Satellite's Assembly and Launch
Manufacturing, assembling, and launching EOS SAT. Satellites follow the Earth on a sun-synchronous orbit and collect refracted light through 11 specialized bands
Independent, high-quality data
Manufacturing and integration of EO satellites through tasking or continuous monitoring
Midstream
Mission control center
Data acquisition & storage
Receiving and Processing stations
Acquisition of imagery data by 4 ground stations in different parts of the world for the finest output
Downstream
Data processing
Data fusion
Algorithms & Analytics
Product & services
Quality business insights from our solutions and software
Raw satellite imagery is processed by our proprietary algorithms and transformed into already existing and fully-functional products & services to benefit end-users
Our Mission
Empowering sustainable practices and precision agriculture worldwide
Thriving while mitigating climate change will require implementing a data-driven approach on every level of the agriculture business. Our mission is to enable each sector of the industry to introduce smart, sustainable agriculture practices that ensure the security of the food supply on Earth. EOS SAT technology allows growers to diminish carbon dioxide emissions and develop sustainable agriculture methods without financial losses.
Reduce CO2 emissions in agriculture by streamlining operations

Eliminate pesticide and fertilizer overuse

Enable food producers to weather climate impact



Cut back on energy consumption

Mitigate the upcoming food crisis

Commitment to a sustainable future
Aligning with United Nations Sustainable Development Goals (SDGs)
Apart from bringing profit, the EOS SAT constellation is to make a direct impact on the environment by mobilizing the best satellite technology. Remote sensing via EOS SAT aims to shape the approach to sustainable agriculture practices by aligning with the 6 pillars of the UN SDGs framework.
Climate Action

Industry innovation and infrastructure

Clean Water and Sanitation

Responsible consumption and Production

End Hunger

Life on land
Learn how other EOS Data Analytics technologies can be harnessed in making global sustainable development a reality.
Our Satellites
Technical Characteristics
Orbit Average Power
140 W
Design Lifetime
5-7 years
Bus Voltage
24.5 V - 33.6 V
Constellation Deployment
2022-2025
GSD (Ground Sample Distance), Resolution
Panchromatic 1.4 m
Multispectral 2.8 m
Swath Width
2 optical payloads with swath width of 44 km for the 500km altitude
Spectral Bands
13 Bands:
RGB
2 NIR Channels
3 RedEdge
WaterVapor
Aerosol
Pan
2 SWIR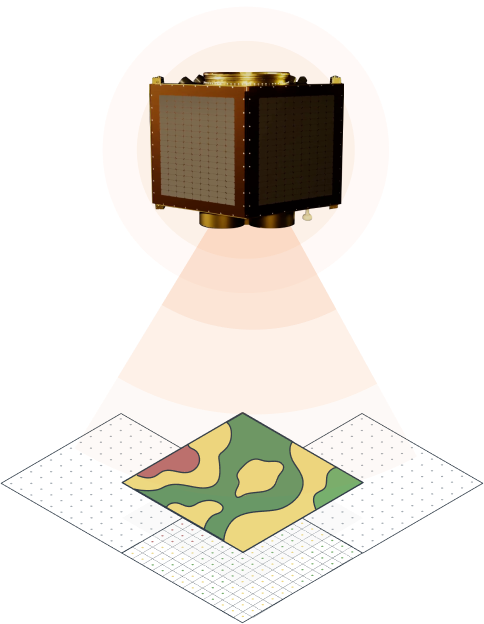 Timeline
EOS SAT Constellation Roadmap
2021

Test Readiness Review
Flight & Operations Readiness Review

2023

1st EOS SAT launch

2025

Next 6 EOS SAT satellites launch
Full Operations Capability
The Highlights
Benefits of using our precision agriculture big data
Complete cycle of acquisition and processing of satellite data
Better coverage for countries with small fields
Exact schedule for the next satellite pass
Market insights on a global scale
Exclusive data ownership in a territory
Сomplete history of images and indexes from all 7 satellites
Why EOS SAT?
We combine multiple data points that can be applied in every agriculture business sector
FOOD PRODUCERS
Streamline operations by leveraging field data
Achieve precision in field activities
Get critical information in a timely manner
INPUT SUPPLIERS
Build strong and transparent relationships with partners
Monitor the effectiveness of inputs and compare it across seasons
Follow the latest global input supply market trends
INSURANCE PROVIDERS
Process claims more easily by having access to hard data
Assess risks in advance by tracking crop performance
Manage payout risks smarter by rating fields according to historical data
BANKING AND LOAN INSTITUTIONS
Allocate investments in a more risk-free way
Validate loan applications based on the field's performance history
Ensure transparency between bank managers and the farmers
AG TECH DEVELOPERS
Get multiple data points from one source
Integrate EOSDA Products into your Platform via API access
Distribute the platform under your own brand with our White Label Solution
GOVERNMENTS
Monitor large areas at a time
Make accurate yield projections for entire regions
Prevent natural calamities
For Investors
Would you like to invest in the future of agriculture?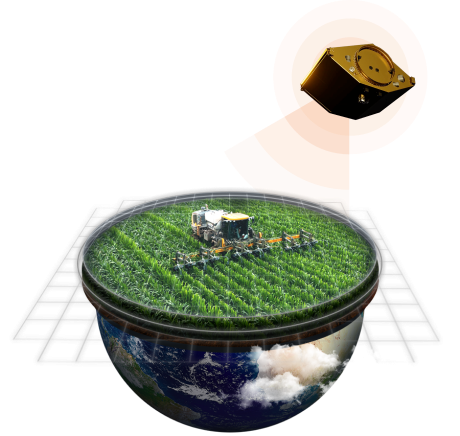 Our Product
Satellite-as-a-Service for agro purposes
Step 1
SATELLITE-AS-A-SERVICE (SaaS)
Vegetation indices, Soil moisture, Growth stages, Weather risks, Data manager, Fertility scripting
RGB+NIR with high spatial resolution
Step 2
MODEL-AS-A-SERVICE (MaaS)
Land cover & Land use, Crop classification, Field boundaries detection, Yield prediction, Harvest status monitoring, Cloud mask generation
Multi-Spectral sensors with SWIR channel
Step 3
PRODUCT-AS-A-SERVICE (PaaS)
Virtual Farm, Farm Digital Twin Agro-Simulator
A virtual farm is a digital model of your farm's operation in near real time, built on an in-depth data analytics. Here, you can track field activities across all your fields at a time - spot and prevent threats, optimize key resources, perform effectively as a decision-maker
Multi-Spectral sensors with SWIR channel
Ready?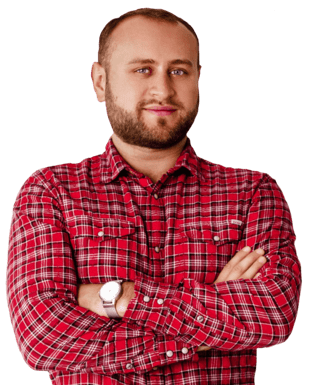 We're here to help! Don't hesitate to ask any questions or schedule a demo.